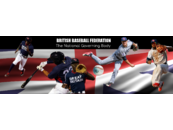 BBF Safeguarding Risk Assessment Guidelines
Our Safeguarding Policies and Procedures document includes a single generic collection of requirements and information that supports steps to protect children and vulnerable persons and are applicable to all. All participants (adults) should not be allowed to take part in activities (baseball training, games, events, etc.) involving children (u18) until these measures have been implemented. The information is standard and can be used by any club, regardless of its size, affiliation, or operation nature.
We [BBF] may update or make changes to this document at any time, for any reason at our sole discretion, without notice to reflect changes following government guidelines, consultation, advice, research or continual improvement to the document. Compliance with these safeguarding guidelines cannot confer your immunity from legal obligations. Users are responsible for their correct application. All affiliated members must follow the BBF safeguarding policies and procedures, making up a broader set of documents on this website as part of their membership terms and insurance coverage. This document's material is given "as is," and the BBF is not liable for any errors or omissions or for the results obtained using this version's details.
BBF Safeguarding Risk Assessment Guidelines BBF Safeguarding Risk Assessment Guidelines
Social, News & Weather
London uk
Clear

1°C
Wind
Humidity
4 MPH NW
75%
Never miss an update
Follow the site to get the latest news and results straight to your email