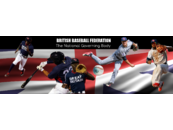 PRIVACY POLICY STATEMENT
The British Baseball Federation is registered with the office of the ICO and adheres to GDRP guidelines and best practices.
1. British Baseball Federation (BBF) Privacy Statement which includes GB Baseball, knows that you care about how your personal information is used and shared, and we take your privacy seriously. Please read the following to learn more about our Privacy Statement. By using this website, or any related sites and any associated services, social media and/or features (collectively, the "Service") you acknowledge that you accept the practices and policies outlined in this Privacy Statement.
2. What Does This Privacy Statement Cover?
This Privacy Statement covers British Baseball Federation treatment of personally identifiable information ("Personal Information") that BBF or GB Baseball gathers when you access/use the Service.
3. What Personal Information Does BBF Collect?
The BBF collects information you voluntarily submit to the Service, such as the information we collect when you register for a membership, player registrations, complaints, our communications, donations, or general information: your name, email address, date of birth, etc.
The information you elect to submit in a public or quasi-public manner may be disclosed to other users of the Application or the general public ("User Submission(s)"). For example–if you make a post to a message board or chat forum that includes any personal information – such information will be made publicly available.
Also, we may automatically receive and store certain, types of information whenever you interact with the Service. Such information may include the user's IP address, domain server, and kind of Internet browser. This information helps us, among other things, analyse trends and administer the Service.
Do Not Track Policy. Through cookies we place on your browser or device, we may collect information about your online activity after you leave our Services. Just like any other useful information we collect, this information allows us to improve the Services and customise your online experience, and otherwise as described in this Privacy Policy.
4. What about children?
The safety and privacy of children are critical to us. If you are a resident of the EU, United Kingdom, Lichtenstein, Norway, or Iceland, then you must be 16 years old or older to provide us information in any way and may still require consent from your parent or guardian. Any person that does not meet the above age requirements is a "Minor". Minors are prohibited from signing up or using any of our services in any way without the explicit consent of their parents or guardian. If you are a Minor, please do not attempt to register for the Services or send any personal information about yourself to us without your parents or guardians consent. If we learn that we have collected personal information from a Minor (without consent from a parent or guardian), we will delete that information as quickly as possible. If you believe that a Minor may have provided us personal information, please contact us at info@britishbasbeallfederation.com. We reserve the right to require any user to verify that the user is not a Minor, and if a user does not provide such verification in a timely manner, we will terminate the user's account and delete all personally identifiable information displaying on the site and collected from such user.
5. How does the BBF use the information it collects?
Provide the Service: Your information will be used primarily to provide you with the Service. Improve the Service: Your information may be used by us internally to improve the Service and develop new services and features.
Other Uses: Your information may also be used by us as outlined in the next section.
6. Will BBF Share Any of the Personal Information it Receives?
To the limited extent we collect Personal Information – we neither rent nor sell your Personal Information to anyone. We share your Personal Information only as described below.
Recipient of User Submissions: As mentioned above – your User Submissions may be shared in a public or quasi-public manner.
Service Providers and Agents: We employ other companies and people to perform tasks on our behalf. For example, we may decide to use a third party payment processing company to process payments you make through the Service. Also, parts of the Service may be hosted by a third party on our behalf. Your information may be accessed by such providers/agents if we need to share your information with them to provide our services or customer support to you. Unless we tell you differently, BBF agents do not have any right to use Personal Information we share with them beyond what is necessary to assist us.
Business Transfers: In some cases, in the future, we may choose to set-up a company under our control, you acknowledge that such transfers may occur and that the BBF may continue to use your Personal Information as outlined in this policy.
Protection of BBF, GB Baseball and Others: We may release Personal Information when we believe in good faith that release is necessary to comply with the law; tournament requirements, bookings (flights, rooms, travel tickets) enforce or apply our conditions of use and other agreements; or protect the rights, property, or safety of BBF and GB Baseball, our volunteers, officers, employees, our users, or others.
With Your Consent: Except as set forth above, you will be notified when your Personal Information may be shared with third parties and will be able to prevent the sharing of this information.
7. Conditions of Use
If you decide to access or use the Service, such access and use and any possible dispute over privacy are subject to this Privacy Statement and our Terms of Use (located on our website - Disclosures), including limitations on damages, disclaimer of warranties, and the application of the laws of England and Wales.
8. Third Party Websites/Services
The Site may permit you to link to other websites on the Internet, and other websites may contain links to the Site. These other websites are not under BBF control, and such links do not constitute an endorsement by BBF of those other websites or the services offered through them. This Privacy Statement does not cover the privacy and security practices of websites linked to or from the Service, and the BBF is not responsible for the privacy or security practices or the content of such sites.
9. Opting out of all future emails
If you would like to stop receiving an email from BBF or GB Baseball, merely visit the -email section of your account settings and uncheck any and all boxes, or click unsubscribe at the bottom of our e-mails or notify us at info@britishbaseball.org
10. GDPR
For this GDPR section, we use the terms "Personal Data" and "processing" as they are defined in the GDPR, but "Personal Data" generally means information that can be used to identify a person individually, and "processing" generally covers actions that can be performed in connection with data such as collection, use, storage and disclosure. BBF will be the controller of your Data processed in connection with the Sites. Note that we may also process Personal Data of our volunteers' and end users in connection with our provision of services to members, volunteers, officials or etc, in which case we are the processor of Personal Data. If we are the processor of your Personal Data (i.e., not the controller), please contact the controller party in the first instance to address your rights with respect to such data.
If there are any conflicts between this section and any other provision of this Privacy Policy, the policy or portion that is more protective of Personal Data shall control to the extent of such conflict. If you have any questions about this section or whether any of the following applies to you, please contact us at info@britishbaseball.org
What Personal Data Do We Collect From You? We collect Personal Data about you when you provide such information directly to us, when third parties such as our partners or service providers provide us with Personal Data about you, or when Personal Data about you is automatically collected in connection with your use of our Sites.
Information we collect directly from you: We receive Personal Data directly from you when you provide us with such Personal Data, including without limitation the following:
Required:
First and last name
Email address
Telephone number
Birthdate
IP address(es)
Optional:
Mailing address
Facts about playing baseball history and career
General location
Information we receive from third-party sources: Some third parties such as our partners and service providers provide us with Personal Data about you, such as the following:
Account information for third party services: If you interact with a third party service when using our Sites, such as if you use a third-party service to log-in to our Sites (e.g., Facebook, Google, or Twitter), or if you share content from our Sites through a third party social media service, the third party service will send us information about you, such as information from your public profile, if the third party service and your account settings allow such sharing. The information we receive will depend on the policies and your account settings with the third-party service.
Information we automatically collect when you use our Sites: Some Personal Data is automatically collected when you use our Sites, such as the following:
IP address
Device identifiers
Web browser information
Page view statistics
Browsing history
Usage information
Transaction information (e.g. transaction amount, date and time such transaction occurred)
Cookies and other tracking technologies (e.g. web beacons, pixel tags, SDKs, etc.) — For more information, please review our Cookie Policy.
Location inferred from your IP address
Log data (e.g. access times, hardware and software information)
How Do We Use Your Personal Data? We process Personal Data to operate, leagues, tournaments, competitions, practices, enrollments to events, improve, understand and personalise our Sites. For example, we use Personal Data to:
Create and manage user profiles
Communicate with you about the Sites
Process orders
Contact you about Site announcements, updates or offers
Provide support and assistance for the Sites
Personalise website content and communications based on your preferences
Meet contract or legal obligations
Respond to user inquiries
Fulfil user requests
Comply with our legal or contractual obligations
Resolve disputes
Protect against or deter fraudulent, illegal or harmful actions
Enforce our Terms and Conditions
We will only process your Personal Data if we have a lawful basis for doing so. Lawful bases for processing include consent, contractual necessity and our "legitimate interests" or the legitimate interest of others, as further described below.
Contractual Necessity: We process the following categories of Personal Data as a matter of "contractual necessity", meaning that we need to process the data to perform under our Terms and Conditions with you, which enables us to provide you with the Sites. When we process data due to contractual, league participation, online instruction (including webinars), events or membership necessity, failure to provide such Personal Data will result in your inability to use some or all portions of the Sites that require such data.
First and last name
Email address
Birthdate
Mailing address
Telephone number
Facts about education history and career
General location
Legitimate Interest: We process the following categories of Personal Data when we believe it furthers the legitimate interest of us or third parties.
First and last name
Email address
Birthdate
IP address(es)
Examples of these legitimate interests include:
Operation and improvement of our business, products and services
Marketing of our products and services
Provision of customer support
Protection from fraud or security threats
Compliance with legal obligations
Completion of corporate transactions
Consent: In some cases, we process Personal Data based on the consent you expressly grant to us at the time we collect such data. When we process Personal Data based on your consent, it will be expressly indicated to you at the point and time of collection.
Other Processing Grounds: From time to time we may also need to process Personal Data to comply with a legal obligation, if it is necessary to protect the vital interests of you or other data subjects, or if it is necessary for a task carried out in the public interest.
How and With Whom Do We Share Your Data? We share Personal Data with vendors, third party service providers and agents who work on our behalf and provide us with services related to the purposes described in this Privacy Policy or our Terms and Conditions. These parties include:
Payment processors
Ad networks
Analytics service providers
Services to provide customer support
Hosting service providers
We also share Personal Data when necessary to complete a transaction initiated or authorised by you or provide you with a product or service you have requested. In addition to those set forth above, these parties also include:
Other users (where you post information publicly or as otherwise necessary to effect a transaction initiated or authorized by you through the Sites)
Social media services (if you interact with them through your use of the Sites)
Other parties authorised by you
We also share information with third parties when you have given us consent to do so (as indicated at the point such information is collected).
We also share Personal Data when we believe it is necessary to:
Comply with applicable law or respond to valid legal process, including from law enforcement or other government agencies
Protect us, our business or our users, for example, to enforce our Terms and Conditions, prevent spam or other unwanted communications and investigate or protect against fraud
Maintain the security of our products and services
Provide a service directly authorized and requested by you, the end user
Furthermore, if we choose to buy or sell assets, user information is typically one of the transferred business assets. Moreover, if we, or substantially all of our assets, were acquired, or if we go out of business or enter bankruptcy, user information would be one of the assets that are transferred or acquired by a third party, and we would share Personal Data with the party that is acquiring our assets. You acknowledge that such transfers may occur and that any acquirer of us or our assets may continue to use your Personal Information as set forth in this policy.
How Long Do We Retain Your Personal Data? We retain Personal Data about you as long as you have an open account with us or as otherwise necessary to provide you Services. We aim to delete any data not required which has been collected over the years and no longer necessary. In some cases we retain Personal Data for longer, if doing so is necessary to comply with our legal obligations, resolve disputes or collect fees owed, or is otherwise permitted or required by applicable law, rule or regulation. Afterwards, we retain some information in a depersonalised or aggregated form but not in a way that would identify you personally.
What Security Measures Do We Use? We seek to protect Personal Data using appropriate technical and organisational measures based on the type of Personal Data and applicable processing activity.
What Rights Do You Have Regarding Your Personal Data? You have certain rights with respect to your Personal Data, including those set forth below. For more information about these rights, or to submit a request, please email info@britishbaseballfederation.com. Please note that in some circumstances, we may not be able to fully comply with your request, such as if it is frivolous or extremely impractical, if it jeopardises the rights of others, or if it is not required by law, but in those circumstances, we will still respond to notify you of such a decision. In some cases, we may also need to you to provide us with additional information, which may include Personal Data, if necessary to verify your identity and the nature of your request.
Access: You can request more information about the Personal Data we hold about you and request a copy of such Personal Data.
Rectification: If you believe that any Personal Data we are holding about you is incorrect or incomplete, you can request that we correct or supplement such data.
Withdrawal of Consent: If we are processing your Personal Data based on your consent (as indicated at the time of collection of such data), you have the right to withdraw your consent at any time. Please note, however, that if you exercise this right, you may have to then provide express consent on a case-by-case basis for the use or disclosure of certain of your Personal Data, if such use or disclosure is necessary to enable you to utilize some or all of our Sites.
Portability: You can ask for a copy of your Personal Data in a machine-readable format. You can also request that we transmit the data to another controller where technically feasible.
Objection: You can contact us to let us know that you object to the further use or disclosure of your Personal Data for certain purposes.
Restriction of Processing: You can ask us to restrict further processing of your Personal Data.
Right to File Complaint: You have the right to lodge a complaint about British Baseball Federation practices with respect to your Personal Data with the supervisory authority of your country or EU Member State.
11. Changes to this Privacy Statement
The British Baseball Federation may amend this Privacy Statement from time to time. Use of information we collect now is subject to the Privacy Statement in effect at the time such information is used. If we make changes in the way we use Personal Information, we will notify you by posting an announcement on our website, or via the Service, or sending you an email. Users are bound by any changes to the Privacy Statement when he or she uses the Service after such changes have been first posted.
12. Questions or Concerns
If you have any questions or concerns regarding privacy, please send us a detailed message at info@britishbaseball.org We will make every effort to resolve your concerns.
Social, News & Weather
London uk
Clear

1°C
Wind
Humidity
4 MPH NW
75%
Never miss an update
Follow the site to get the latest news and results straight to your email