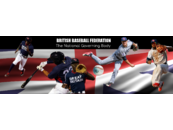 ---
ABOUT LITTLE LEAGUE (source Little League)
Founded in 1939, Little League® Baseball and Softball is the world's largest organized youth sports program, with millions of players and more than one million adult volunteers in every U.S. state and more than 80 other countries. During its nearly 80 years of existence, Little League has seen more than 40 million honored graduates, including public officials, professional athletes, award-winning artists, and a variety of other influential members of society. Each year, millions of people follow the hard work, dedication, and sportsmanship that Little Leaguers® display at our seven baseball and softball World Series events, the premier tournaments in youth sports. https://www.littleleague.org/w...
The First Level: The Local Little League

All league personnel, including the elected board members and officers, and each of the managers, coaches, umpires, auxiliary, field workers, etc., should be volunteers interested in providing the benefits of a Little League program to the youth of their community.
The operational structure of the program begins with the decision of a local community or neighborhood to charter a program at the local level. Several local leagues in a given area collectively form a district that is managed by a volunteer District Administrator. The D.A. coordinates and collaborates with the regional center, staffed with professional employees, and overseen by a Regional Director and the staffs at Little League's five Regional Centers in the United States and four internationally.
To provide the World Series experience to more children around the world, the Little League® International Board of Directors has approved expanding the number of teams at the Little League Baseball® World Series to 20 and Little League Softball® World Series to 12, starting in 2021.
The Second Level: The District
For administrative and tournament purposes, leagues in a given area usually comprise a district. The District Administrator is an experienced volunteer elected by the constituent leagues to counsel, direct, and provide leadership in the policies and rules of the Little League program, and to serve as liaison between the leagues and the Regional Director. The District Administrator organizes the district tournament and attends the quadrennial International Congress where Little League rules and regulations are democratically reviewed and revised for the betterment of the program. There are more than 600 District Administrators worldwide, each with a staff of appointed and/or elected assistants to help more effectively serve his or her leagues. It is recommended, but not required, that the District become incorporated.
The Third Level: Regional and International Headquarters
Little League operations are headquartered in South Williamsport, Pa. (USA). The full-time staff members of Little League Baseball and Softball work with District Administrators, their assistants, and local league officials in developing new leagues, coordinating tournaments, and assisting in the overall operation of a local league program. The District Administrators report to the Regional Director, of which there are five in the United States (Warner Robins, Georgia; San Bernardino, California; Whitestown, Indiana; Bristol, Connecticut; and Waco, Texas), as well as in Puerto Rico; Canada; Japan; and Poland. Worldwide, there are more than 110 full-time Little League employees.
_________________________________________________________________________________________________________________________________________________________________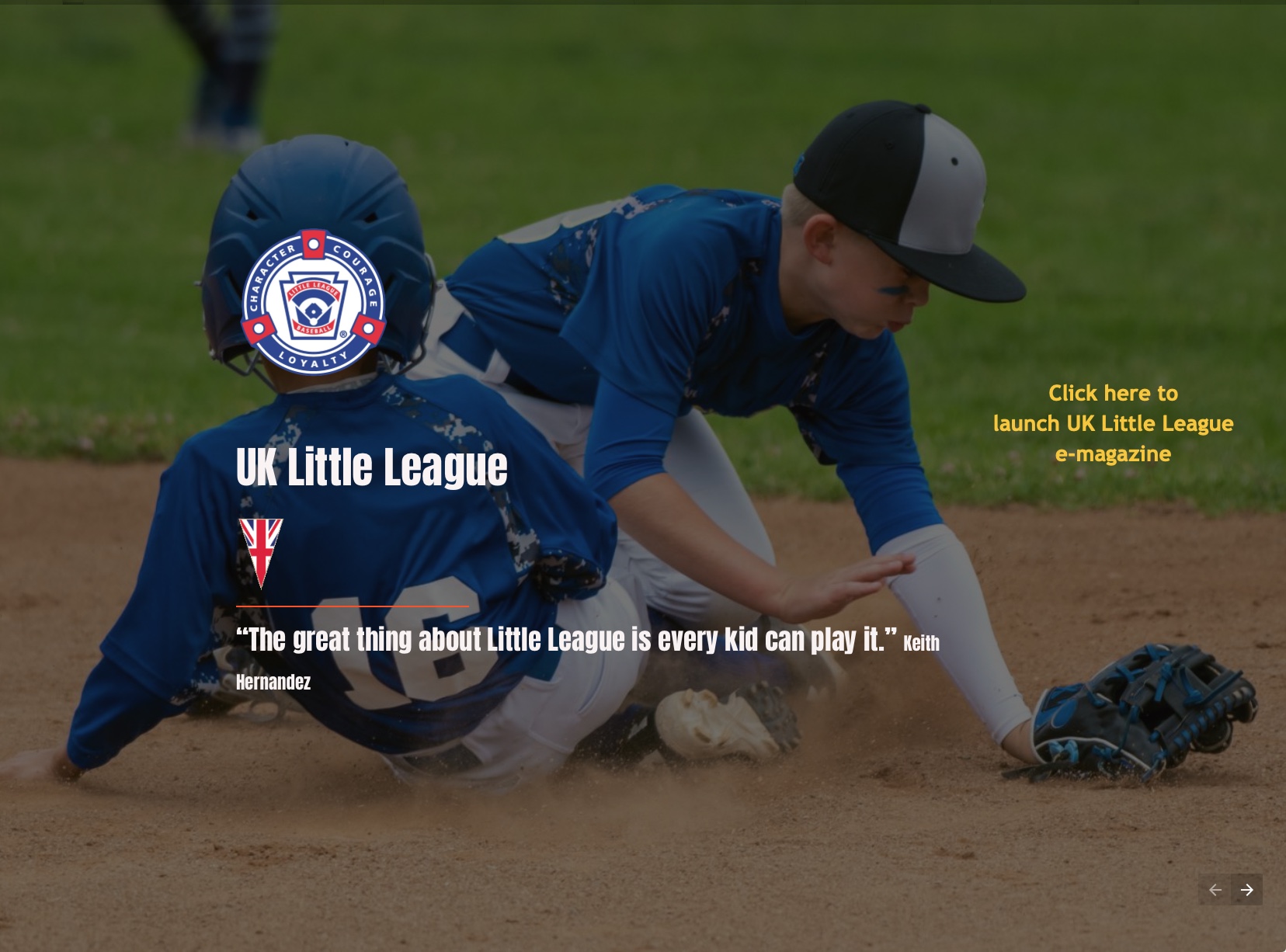 UK LITTLE LEAGUE
To be a part of Little League in the UK, your club/team must be registered with the National Governing Body (NGB) of the sport e.g., British Baseball Federation (BBF)a. Afterwards, the DA oversees the players and teams eligibility and organises the UK Little League Qualifiers.
Youths to be or find a BBF club near you click the following https://maps.esp.tl/maps/_Brit.... Type your address at the top. Afterwards, the nearest clubs near you appear with their details. You can contact a club directly to find out more; Otherwise contact us for assistance info@britishbaseball.org
In 2019, the UK Clubs registered in Little League elected their first District Administrator (DA), Darrin Muller. Darrin has the sole responsibility for Little League in the UK. The British Baseball Federation, solely provides operational support (e.g., website space, etc). The BBF has no authority over the UK Little League Tournament, waivers, boundaries, or rules.
A spokesperson for the British Baseball Federation, said," We are delighted our clubs have chosen someone that they trust and support. Darrin Muller being the newly elected District Administrator (DA), has our support to promote Little League and we will assist him where we can. You should expect a resurgence of Little League in the UK. Little League offers something for the entire family, offers great competition, is a pathway to international competition and it is great just fun!"

For more information about Little League, contact Darrin Muller please email darrin.muller@britishbaseball.org
Universal Little League Baseball Age Groups
Tee Ball (ages 4-7)
Minor League (ages 5-11)
Major Division (ages 9-12) *
Intermediate (50/70) (ages 12-13) *
Junior League (ages 12-14) *
Senior League (ages 13-16) *
* Age groups only eligible to advance to Europe to play and represent the UK
The UK Little League Qualifiers take place in June. The winners (different age groups) advance to play in Kutno, Poland and represent the United Kingdom. Winners in Poland (European African Regional Tournament), go on to the Little League World Series in Williams Port, PA, (USA) in August.
USEFUL LINKS and FLOW CHART
RULES: Little League rules are specific for their players, teams eligibility and tournament. To learn more click https://www.littleleague.org/p... All teams registered and taking part in Little League receive a hard copy of the Little League rules. Refer to the Little League UK DA for more information.
BAT RULES: All bats used in Little League competitions must meet Little League specifications. To learn more click https://www.littleleague.org/p...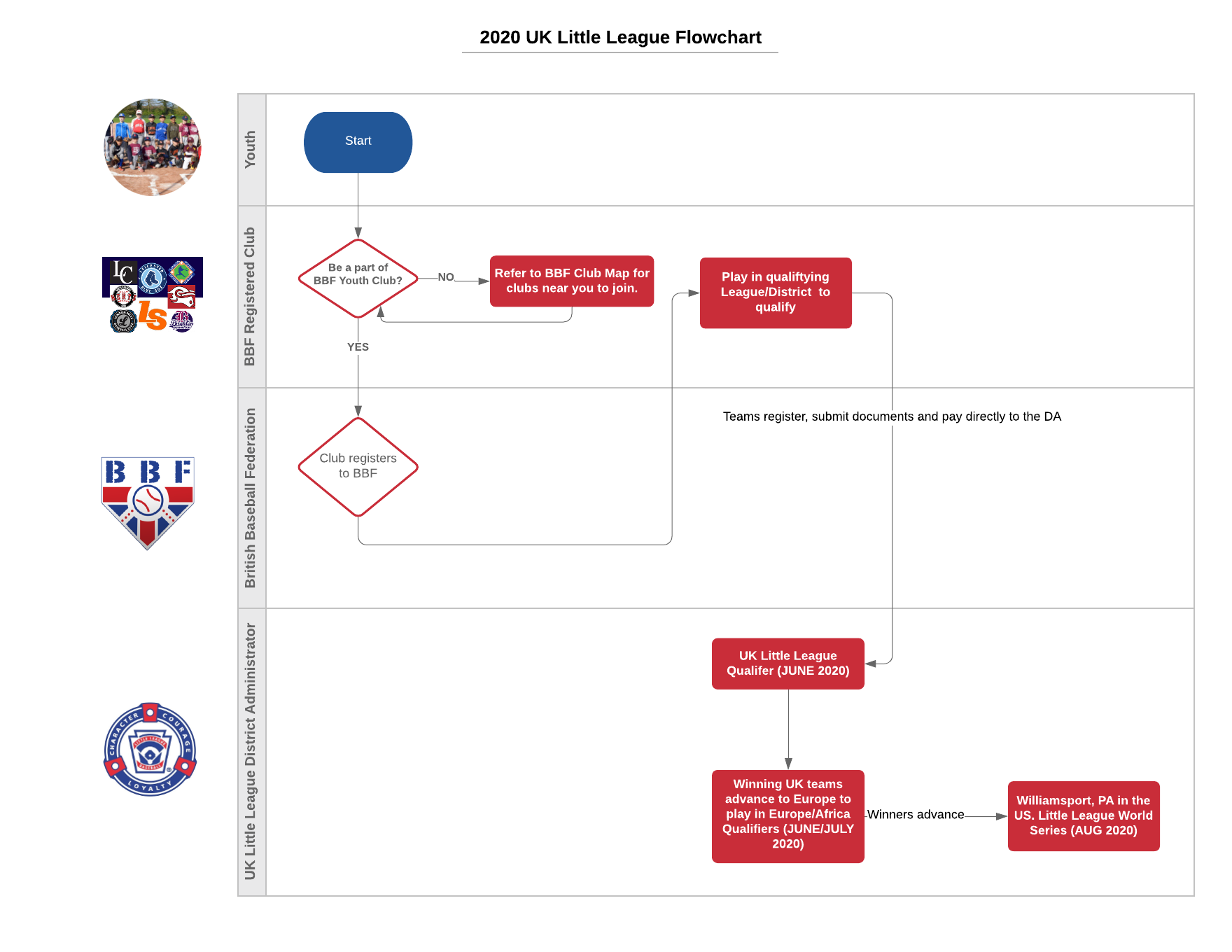 Social, News & Weather
London uk
Overcast

9°C
Wind
Humidity
2 MPH WNW
87%
Never miss an update
Follow the site to get the latest news and results straight to your email