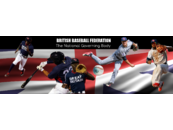 The British Baseball Federation (BBF) is the National Governing Body (NGB) of Baseball. The BBF is officially responsible for the oversight of baseball in Great Britain; it's National Teams (GB Baseball), its baseball leagues, rules (policies and guidance), officials and other items related to its sport. As well, the BBF is recognised by the British Olympic Association as the National Governing Body for the sport of baseball. Baseball is an Olympic Sport in 2020 - Tokyo. The BBF is associated and members to the WBSC, CEB Europe, PONY Baseball, Little League, etc. We aim to adopt, approve, administer, revise and enforce uniform rules, policies and regulations set forth as the NGB of our sport, and comply with the WBSC, and other associated entities which we are members and participate.To become a club member of the BBF, whereby participants (players, coaches, volunteers) in your club can realise the following benefits (but not limited to):

Take part in our Seniors Leagues which have over 40 teams. The top players and coaches in the country take part in our leagues and National Teams. There are four divisional championships, and the winning teams from our leagues are only recognised internationally as the official winning National Champion of Britain.
In 2021, our new Women's Baseball League begins.
Annually, (with the exception of 2020 because of COVID-19) over 1000 senior and youth baseball games are played by our member clubs and National Teams.
We offer four divisions of adult baseball to cover all levels of skill and experience (our top league is the NBL, followed by Triple-A, Double-A and Single-A). Further, different age groups are supported for youth divisions.
Your club is recognised to have a higher standard of oversight for welfare, rules, playing in leagues, insurance, and it adheres to our enforcement, systems and controls.
Take part in our Youth baseball events (different age groups) which is organised, and recognised by international entities (Little League, PONY Baseball, WBSC, CEB Europe).
The BBF is managed by a group of professionally skilled persons, with a vast amount of professional experience and certifications in the following skills: corporate management, compliance, strategy, business development, governance, digital marketing, legal, accounting and IT. Further, the management team, has over 35 years of baseball experience in international baseball.
We lobby nationally and internationally third parties to protect the rights of our members and to secure new opportunities.
In 2018, we professionally produced and webcast all four of our divisional Seniors Finals (NBL, Triple-A, Double-A and Single-A) and our Youth Finals through our BBF YouTube Channel. The mentioned Finals were watched in 30 countries and hundreds of viewers.
We support your club with rules (BBF Handbook) of the sport, grievance/disciplinary and eligibility oversight.
The use of professional registration and league management software and applications to interactively create schedules, standings, registration (teams and players), and communicate standings in real-time of updates.
Assistance and information for clubs and their volunteer members involved in managing their club.
Be a part of our digital marketing programme.
The BBF is GDPR registered with the Information Commissioners Office (ICO) to better protect against cybersecurity of your data, improve data management and increase our marketing returns as possible under privacy laws.
Your club participants are eligible for our National Awards.
Eligible to earn a place in the National Baseball Championships (NBCs). The costs and fees to host the above (officials, marketing, field rental, trophies and etc) are covered by the BBF membership fees.
Exclusive offers and discounts e.g.,in 2019, our members received an online tool (licence), to understand and coach the proper mechanics for pitching, hitting, fielding and strategy on the field.
Our combined and public liability insurance coverage is the most extensive for our sport (the fees remain the same from the previous year).
Your member club receives a vote, per registered and paid team at our AGM.
Your member club receive access to our organised events at no further cost (professional baseball clinics, officials clinics, youth clinics, and more) all year.
Be a part of our National Teams. Did you know over 90% of our National Team players come from our member clubs.
Winning teams of our NBCs and YNBCs can go on to represent Britain internationally (CEB Tournament, WBSC, Little League, PONY and etc) as the official respective winner or team of Britain and endorsed by the NGB.
We can work with you to organise professionally produced marketing material.
We will decide any dispute that may arise between, among or involving member clubs involving any individual athlete or official, that is referred to a member of the BBF by an interested party, and to provide for the uniform recognition and application of disciplinary actions.
We will market your club through our website, social media, and digital publications.
Play against the top teams players across the country.
Social, News & Weather
London uk
Overcast

11°C
Wind
Humidity
15 MPH SSW
82%
Never miss an update
Follow the site to get the latest news and results straight to your email