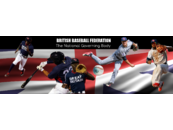 Welcome to the British Baseball Federation (BBF) the National Governing Body of baseball - Blog. The BBF Blog is to provide you with our insights into a variety of topics relating to baseball, our views and outlook.

For our inaugural blog, we begin with the impact of data on assessing performance on development.
BACKGROUND
The BBF is an all-volunteer entity, self-funded and the National Governing Body for the sport of baseball. The BBF has the largest concentration of active participants and teams (youth and adult) playing in baseball leagues, in the United Kingdom. In addition, the BBF oversees our National Teams (Great Britain Baseball).
The BBF is a part of the Confederation of European Baseball (CEB) and the WBSC. CEB is the governing body of baseball within Europe, and the WBSC is the world governing body for the sports of baseball and softball.
For over ten years and solely, baseball development (participants and teams) has been contractually assigned to BSUK. Also, BSUK develops softball participants and teams for the British Softball Federation (BBF).
As part of BSUK's primary assignment to develop our sport, BSUK has been allowed to source over £6 million in public grant money from Sport England, UK Sport, etc. However, BSUK has retained all of the mentioned public funding over the years (£6 million) to run its company with no (£) financial pass-through to the BBF.
Since 2009, BSUK reported to have developed 25,248 participants* and 1438 teams* . However, for the mentioned for baseball only, it works out to be 3,836 participants and 232 teams only (criteria: play on a team, played six games and had a team captain).
* includes both baseball and softball together.
KEY PERFORMANCE INDICATOR'S (KPI's)
Michael Lewis, in his book Moneyball: The Art of Winning an Unfair Game (W. W. Norton & Company, 2003), described the growing importance of data in the baseball business. For example, data analytics are used to determine things that could or should happen in the future, while Key Performance Indicators (KPI's) are intended to measure success.
"Using metrics of performance (KPI's) assists in understanding progress and movement in meeting business objectives. Whether financial or non-financial, these KPI's can highlight patterns (performance and non-performance) in the business, improve transparency and help keep management accountable."
We believe KPI's are essential components to analyse objectively the development of our sport (but not exhaustive) are as follows:
It is necessary to break apart development numbers (softball and baseball); Otherwise, you cannot analyse the impact of development numbers on our particular sport (baseball). For example, to state, there are 100 baseball and softball players in a group, does nothing to address how many separately are baseball and softball players. Thus if you are trying to analyse specific performance (baseball participants and teams only), to make informed decisions about baseball development, you need to distinguish between both sports.
Baseball data needs to be verified in consultation with us to assess validity, so there is a clear insight into the number of active baseball participants and teams. Once trust in the accuracy of the numbers has been achieved, true baselines can be drawn, insight into performance (increased participation) will occur and any necessary changes in strategy can be made.
Subsequent, any errors must be identified and corrected promptly by resetting a verifiable baseline of participants and teams. Without an accurate baseline (participants and teams), it skews conclusions, removes accountability and delays any corrective action required.
Baseball data collected and provided to the BBF needs to be categorised and presented in a clear and understandable format.
Development data differs from casual fan data. For example, baseball development data is applicable for persons (male or female) who play the game of baseball in an organised league, pay a fee to play (=>£1) per annum, play more than five games within an established league or school per annum, and can be verified.
The minimum age of participants is seven years of age or older.
No double counting. For example, if a player who is of the age fourteen plays in both a youth team and adult team, he or she cannot be double-counted as two participants on separate sides. Otherwise, your data will be skewed, and it reduces accuracy on the actual development of participants in our sport.
Comparing performance numbers to other National Governing Bodies (NGB's) in our sport provide a credible baseline and sanity check. For example, there are 38 NGB in CEB (Netherlands, France, Germany, Italy, Malta, Bulgaria, etc.). In 2019, CEB reported there are 97,735 baseball participants made up of 38 National Governing Bodies/countries.
Checking in on your KPIs regularly (monthly or quarterly) is essential to the validity of the data and monitoring progress of performance.
Corporate governance is about transparency, accountability, responsibility and fairness. When you have systems and checks like above you achieve governance in our sport.
As the NGB of the sport of baseball, we have a duty of care to understand, be fact-driven, question freely and fairly the data presented to us, to verify and assess the development performance on the sport of baseball which is assigned to BaseballSoftballUK (BSUK).
DEVELOPMENT METRICS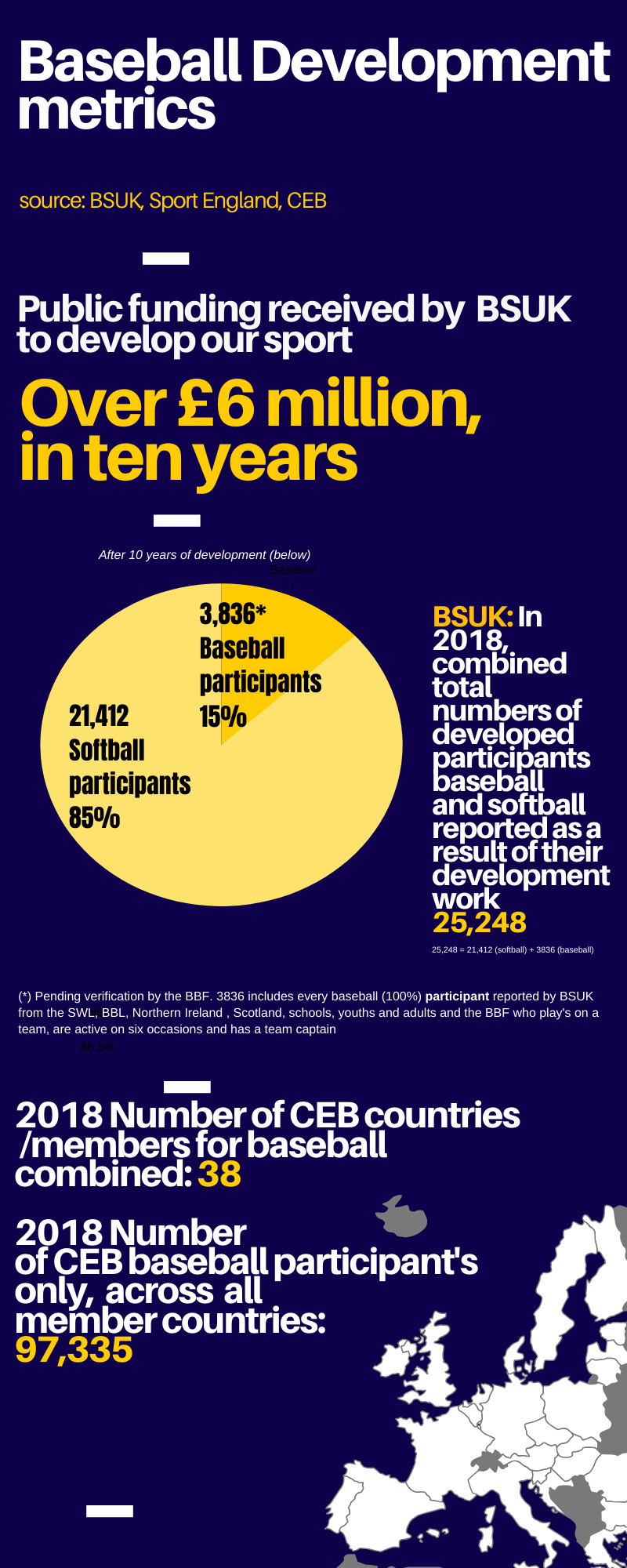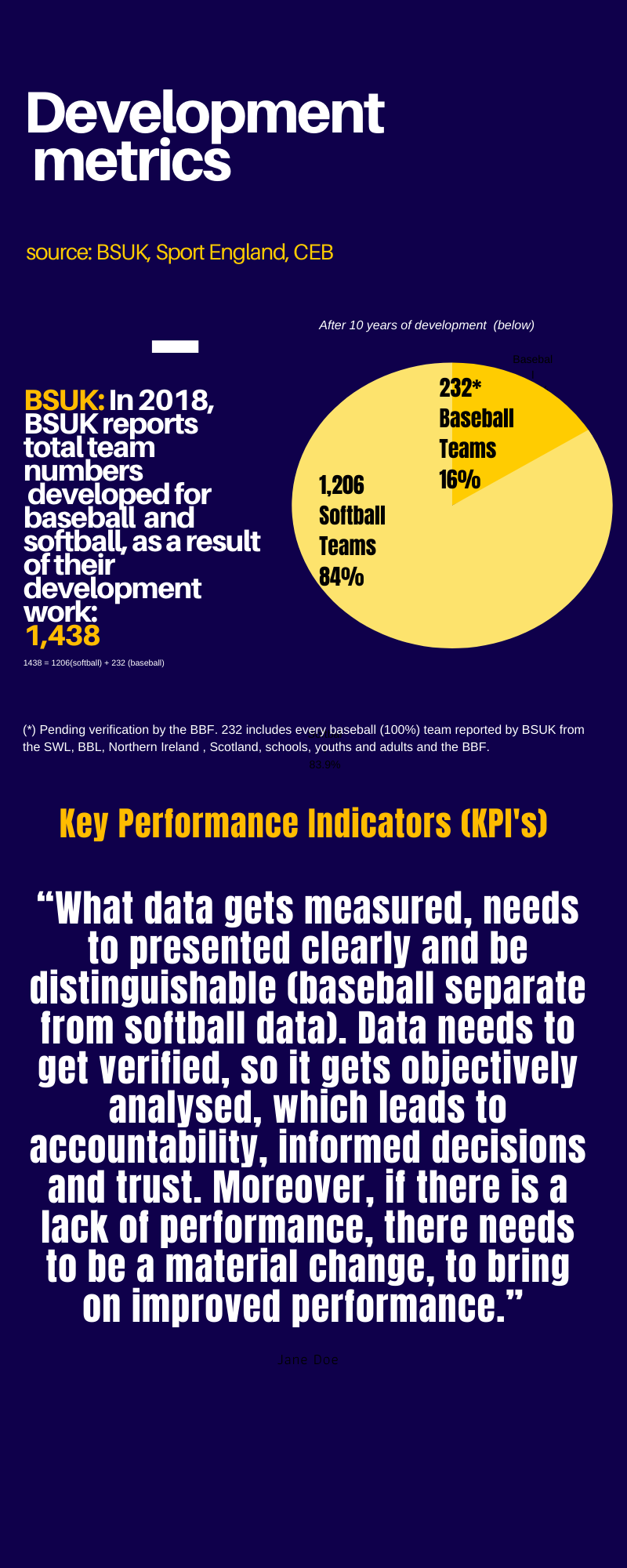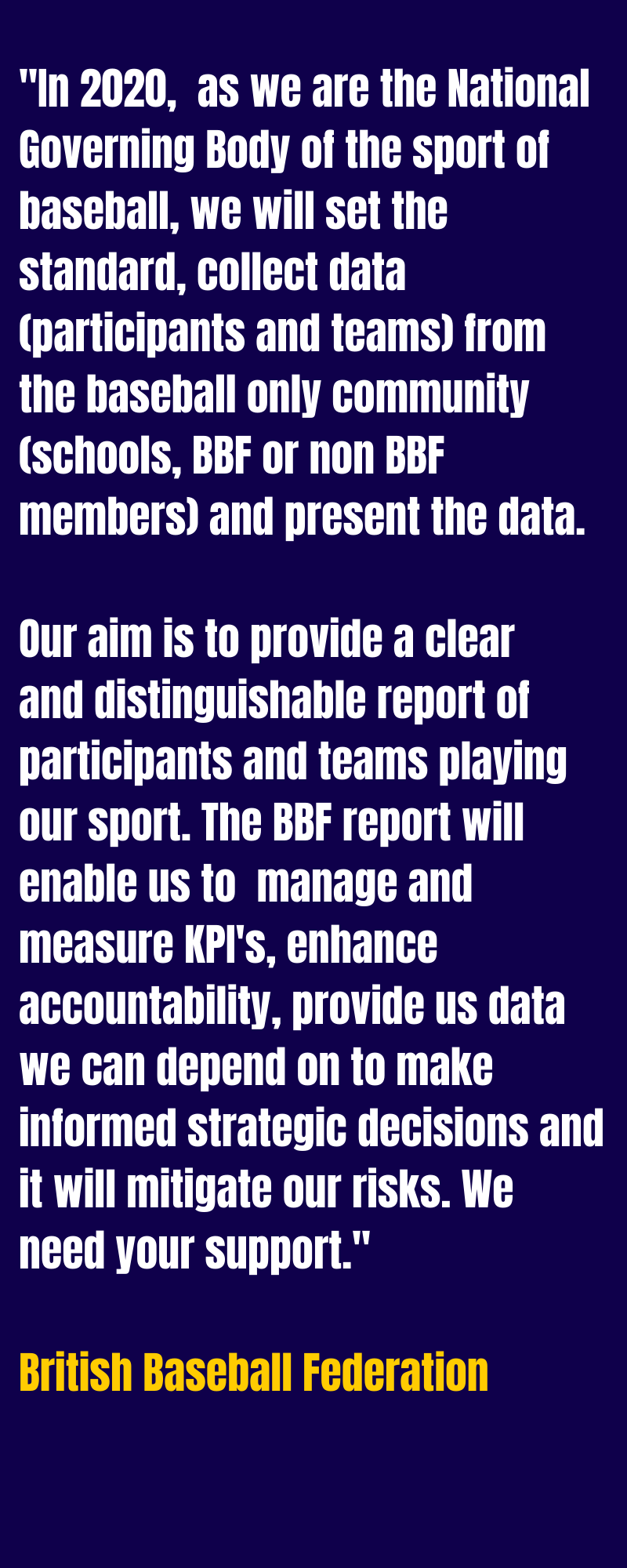 SUMMARY
Our aim is to make use of data efficiently and KPI's to analyse the development of our sport.
In 2020, we aim to make use and check the data available in our sport. For example, assess the data, present the data clearly and make it public e.g., the number of baseball participants and teams in our sport. The mentioned to measure performance, to ensure accountability and so we can make the best informed decisions. Baseball is a pioneer in making the use of data (Sabernatics - Moneyball) and KPI's to measure performance and achieve success.
"Data is abundant in our sport, data matters, data needs to be assessed properly, and data needs to be presented clearly. Once the mentioned is achieved we can make the right management decisions, mitigate our risks and we can discharge our duties as the National Governing Body of our sport. We hope you join us in our aim in collecting and presenting the most accurate numbers of baseball development in our country to measure performance."

Social, News & Weather
London uk
Overcast

11°C
Wind
Humidity
15 MPH SSW
82%
Never miss an update
Follow the site to get the latest news and results straight to your email