British Baseball Federation

British Baseball Federation

As the National Governing Body (NGB) of baseball, we are committed to planning ahead to enhance our members experience. Thus we have developed a forward-looking calendar for the 2020 season. Our prospective 2020 schedule is now available which highlights key dates e.g. bank holidays, special events, GB Baseball events, youth and senior fixtures (regular and postseason) which we are considering and planning on executing over the next 12 months.
We are working on a variety of other events which are not listed below, in preparation for the beginning of the season and the Major League Baseball - London Series. Our commitment is to monitor opportunities, mitigate our risks, account for the costs attributed with our forward-looking plans, and to align with events proposed below. By linking our decision focused planning with our prospective calendar, it will align and improve our members' experience.
IMPORTANT: The below calendar is not finalised, e.g., still pending umpires clinics, postseason, NBCs, YNBCs, contingent on the number of teams which register. Periodically, we will update the below calendar, so refer to this page throughout the year.
Last update: Sun 29 Dec 2019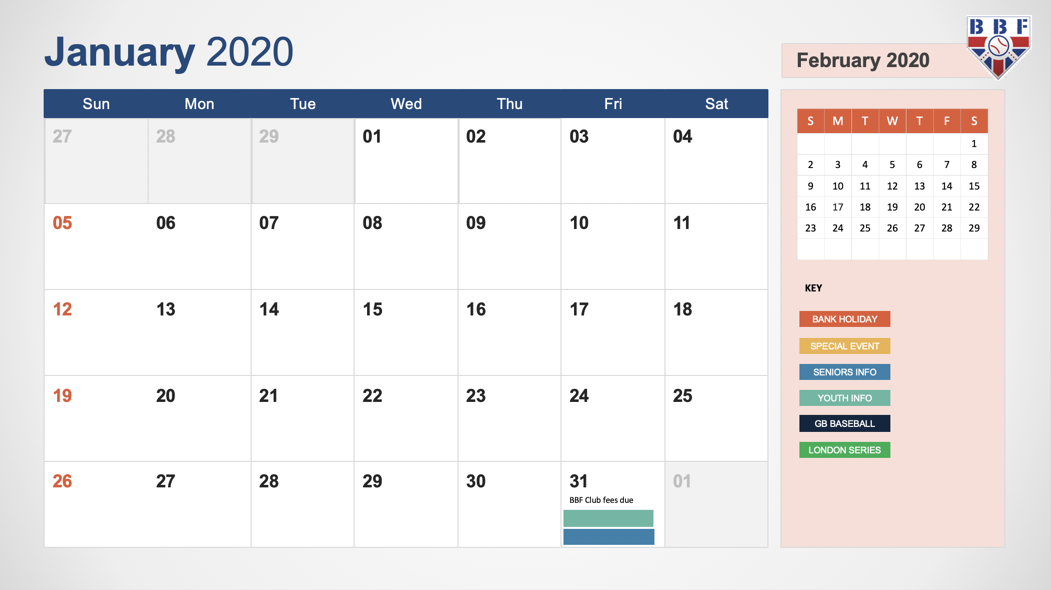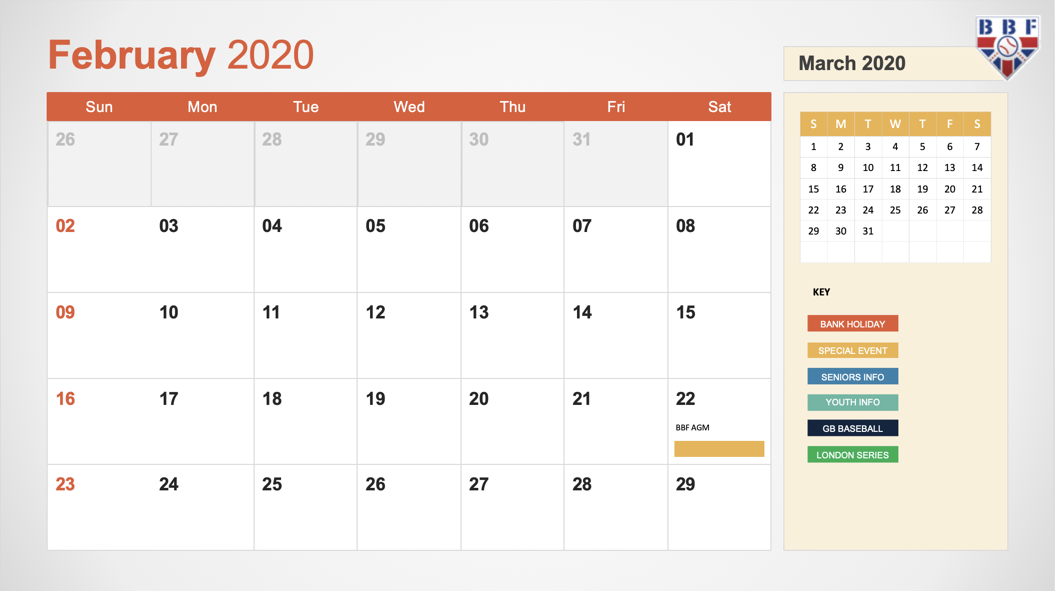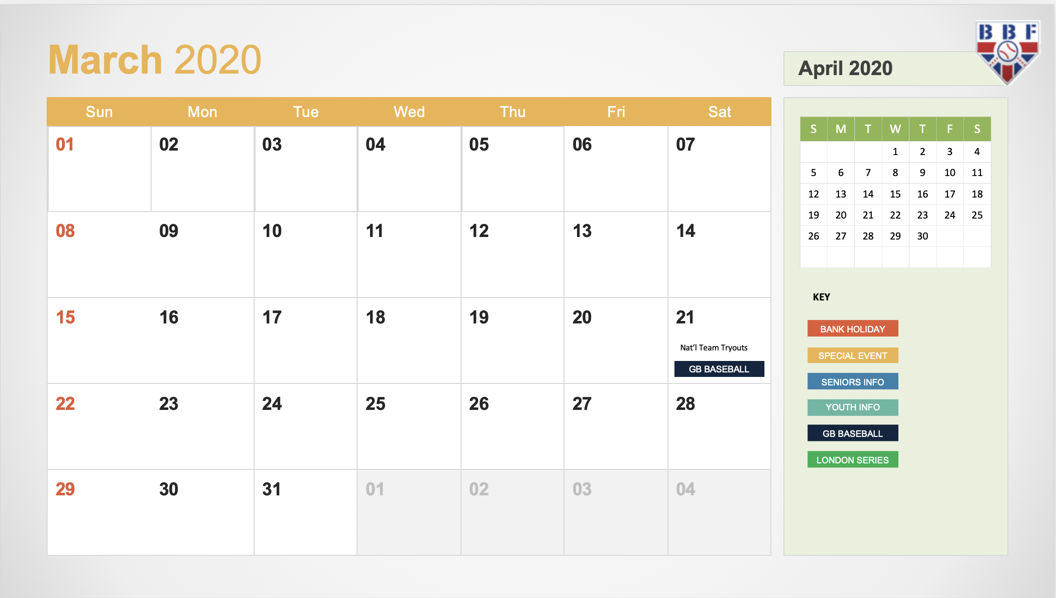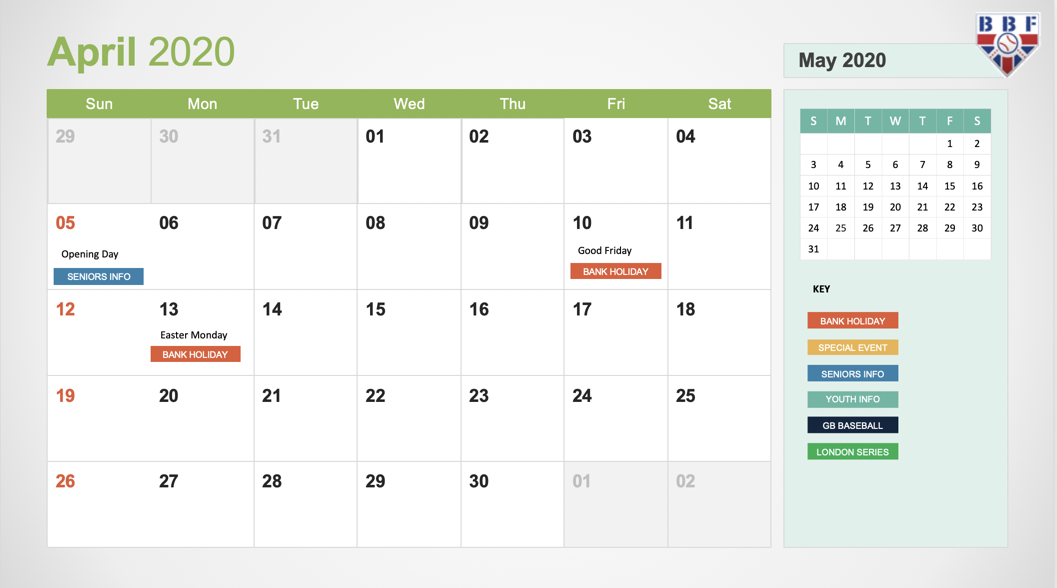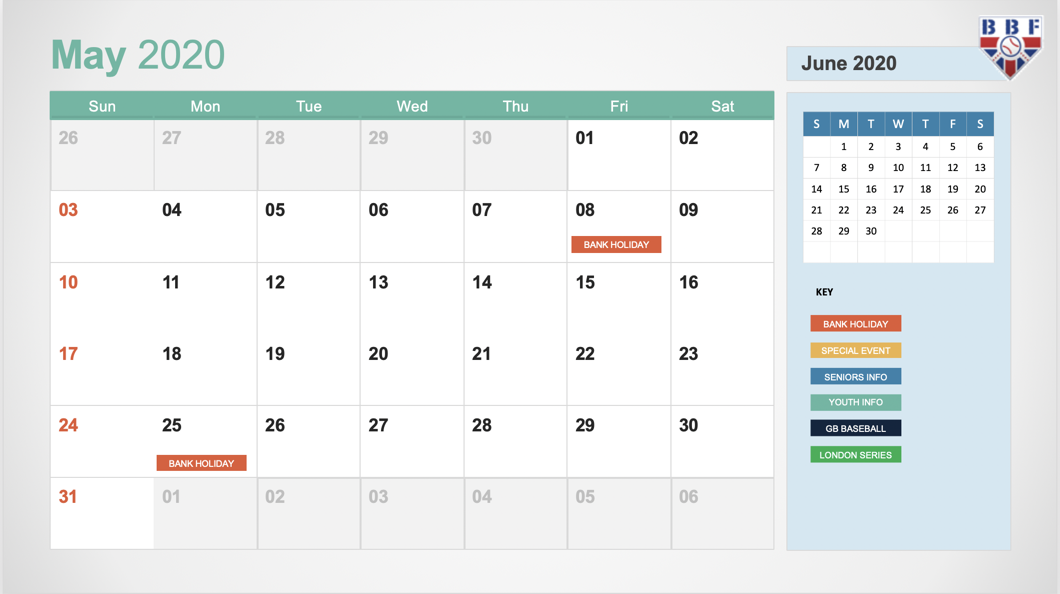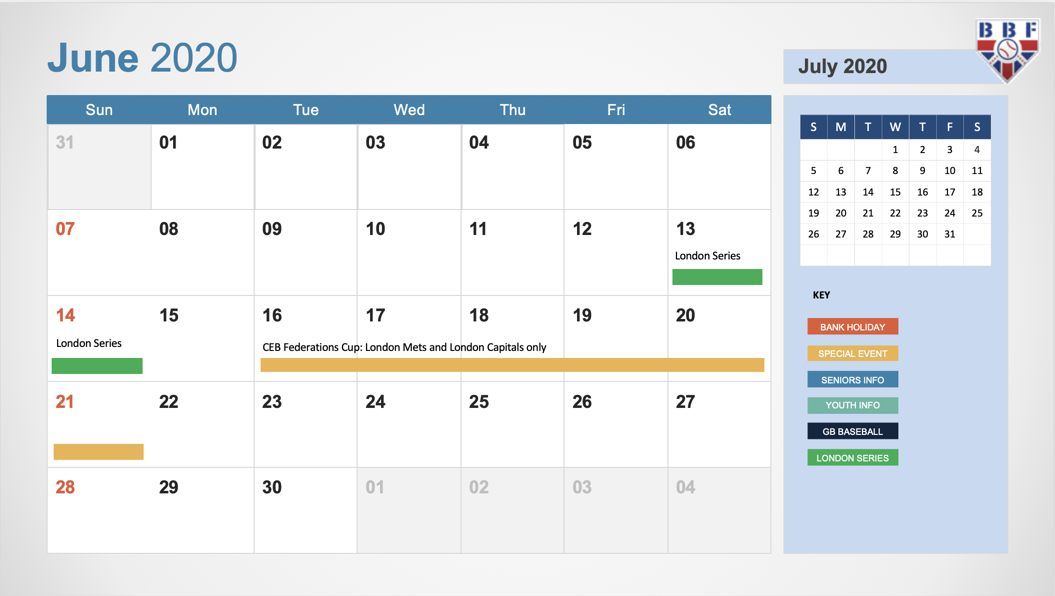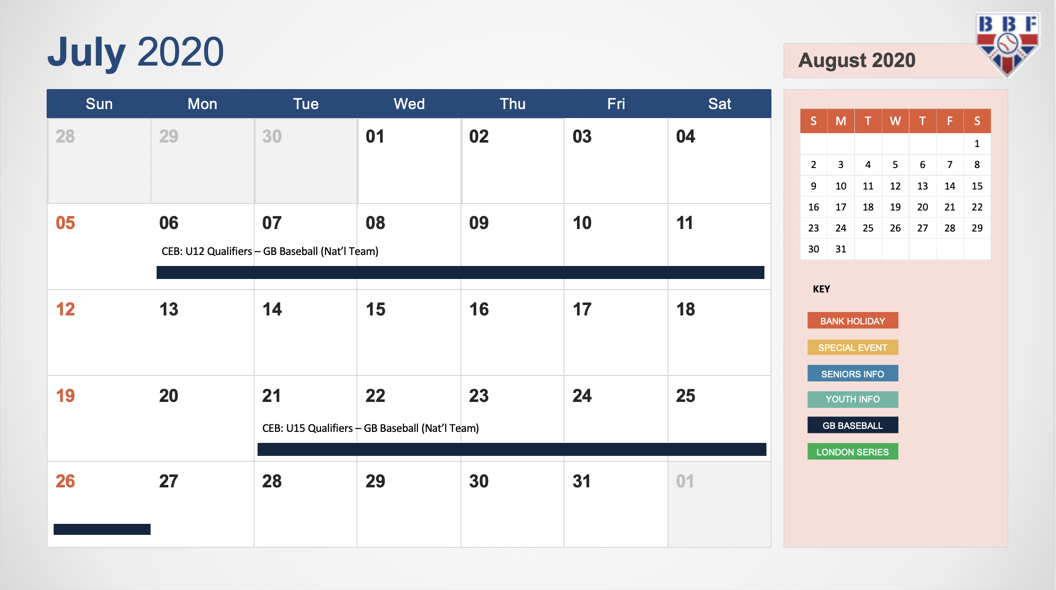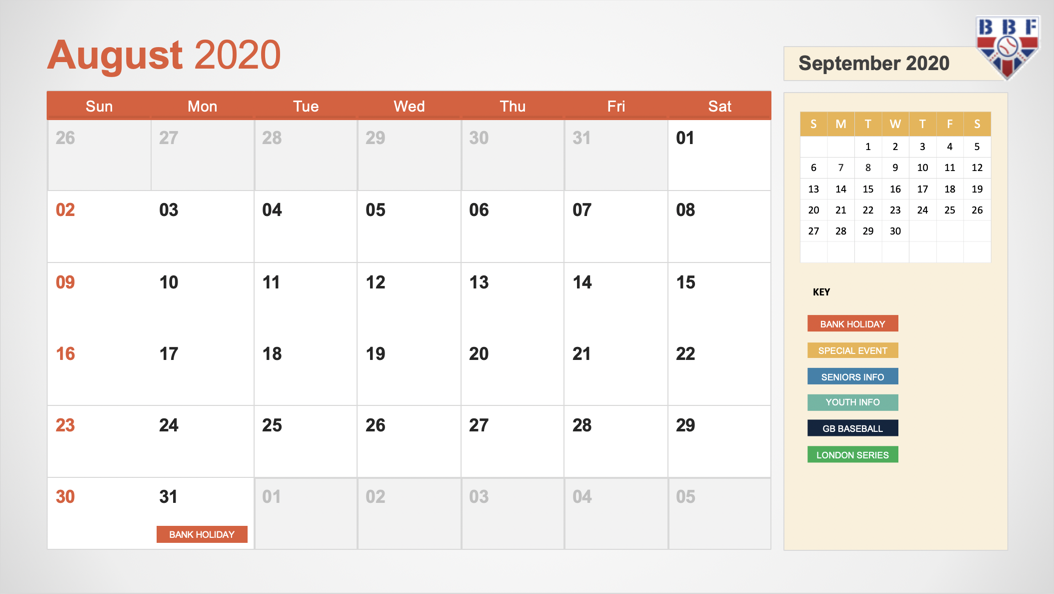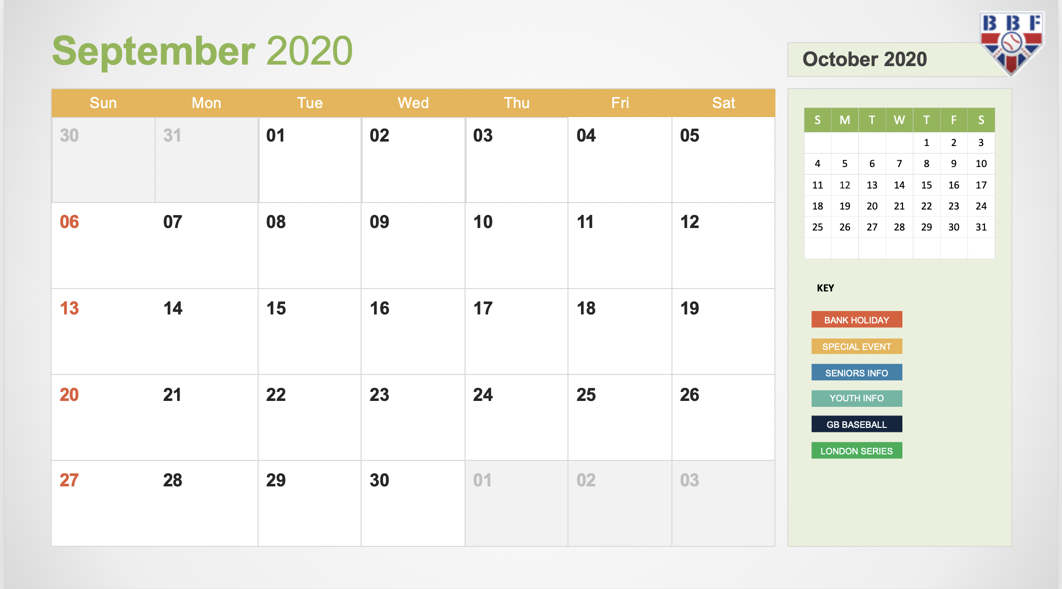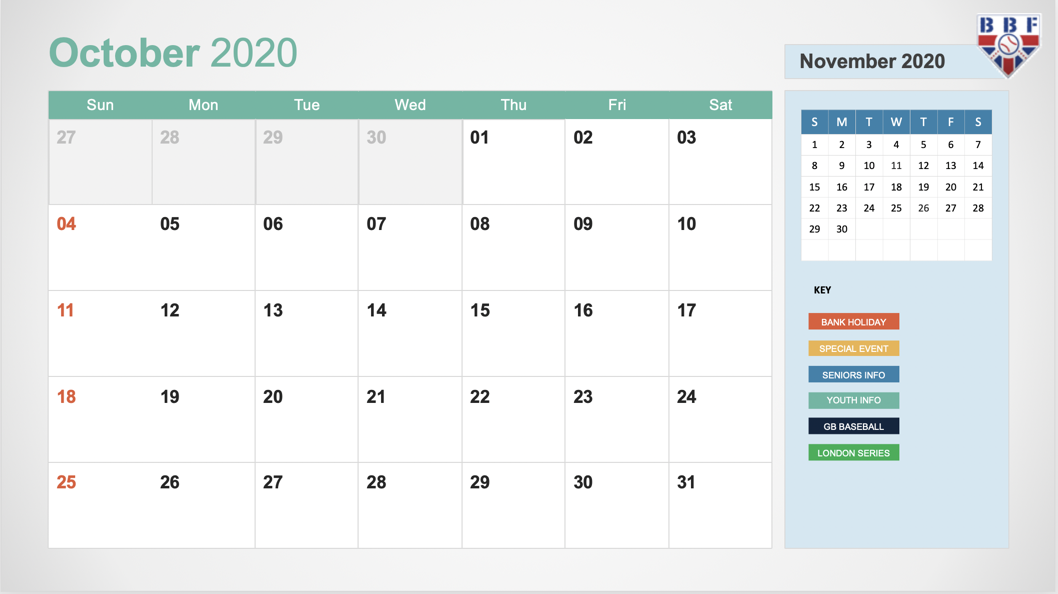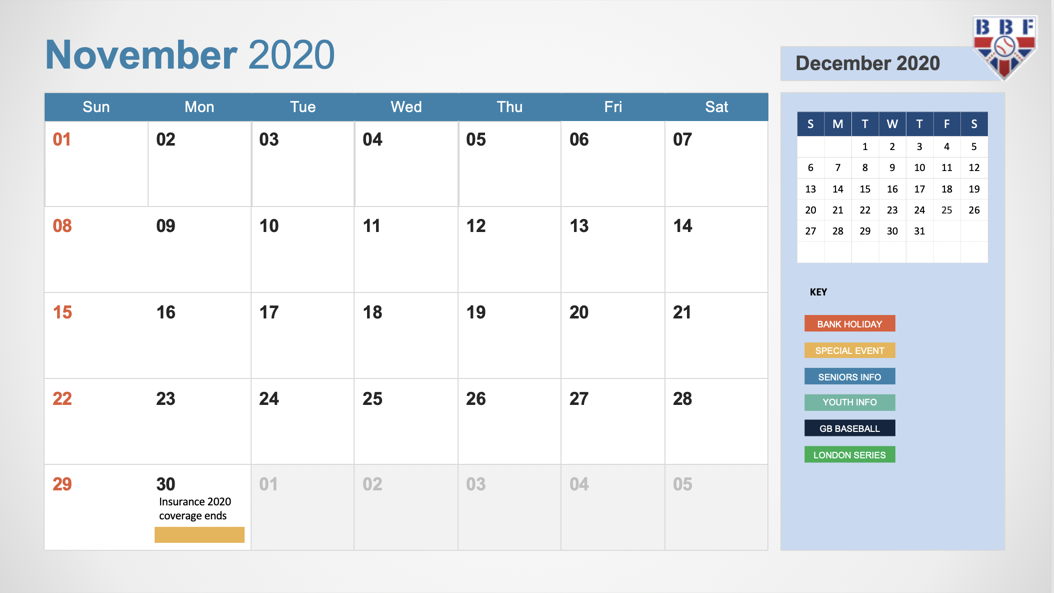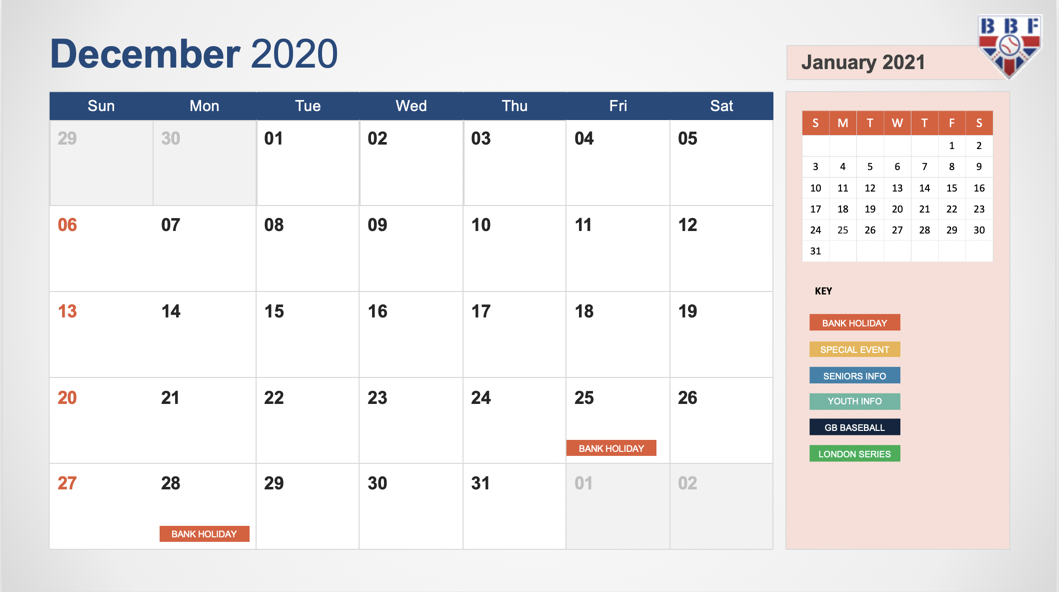 ---
Below is a table summary of the above activities:
| | | | | |
| --- | --- | --- | --- | --- |
| DAY OF THE WEEK | DATE | ACTIVITY | DESCRIPTION | NOTES |
| Wednesday | 1 Jan 2020 | Bank Holiday | New Year's Day | |
| Friday | 31 Jan 2020 | BBF Club Registration and Payment Deadline | | |
| Saturday | 22 Feb 2020 | BBF Annual General Meeting (AGM) | 20 Bedford Way, London | For 2020 registered and paid Club Members only |
| Saturday | 21 Mar 2020 | National Team Tryouts | GB Baseball | |
| Sunday | 5 Apr 2020 | BBF Seniors Opening Day | NBL, Triple-A | Double-A and Single-A to be announced |
| Friday | 10 Apr 2020 | Bank Holiday | Good Friday | |
| Monday | 13 Apr 2020 | Bank Holiday | Easter Monday | |
| Friday | 8 May 2020 | Bank Holiday | Early May bank holiday | |
| Monday | 25 May 2020 | Bank Holiday | Spring bank holiday | |
| Saturday | 13 Jun 2020 | London Series II | St Louis Cardinals v Chicago Cubs | |
| Sunday | 14 Jun 2020 | London Series II | St Louis Cardinals v Chicago Cubs | No BBF fixtures |
| Tuesday | 16 Jun 2020 | Federation Cup Qualifier | Sant Boi / Spain - London Mets | Group Ljubljana (SLO) London Capitals | Participants: 18 teams in 3 groups |
| Wednesday | 17 Jun 2020 | Federation Cup Qualifier | Sant Boi / Spain - London Mets | Group Ljubljana (SLO) London Capitals | Participants: 18 teams in 3 groups |
| Thursday | 18 Jun 2020 | Federation Cup Qualifier | Sant Boi / Spain - London Mets | Group Ljubljana (SLO) London Capitals | Participants: 18 teams in 3 groups |
| Friday | 19 Jun 2020 | Federation Cup Qualifier | Sant Boi / Spain - London Mets | Group Ljubljana (SLO) London Capitals | Participants: 18 teams in 3 groups |
| Saturday | 20 Jun 2020 | Federation Cup Qualifier | Sant Boi / Spain - London Mets | Group Ljubljana (SLO) London Capitals | Participants: 18 teams in 3 groups |
| Sunday | 21 Jun 2020 | Federation Cup Qualifier | Sant Boi / Spain - London Mets | Group Ljubljana (SLO) London Capitals | Participants: 18 teams in 3 groups |
| Monday | 6 Jul 2020 | GB Baseball: EC U12 Qualifier | Mortsel / Belgium | Participants: 7 National teams in 1 group |
| Tuesday | 7 Jul 2020 | GB Baseball: EC U12 Qualifier | Mortsel / Belgium | Participants: 7 National teams in 1 group |
| Wednesday | 8 Jul 2020 | GB Baseball: EC U12 Qualifier | Mortsel / Belgium | Participants: 7 National teams in 1 group |
| Thursday | 9 Jul 2020 | GB Baseball: EC U12 Qualifier | Mortsel / Belgium | Participants: 7 National teams in 1 group |
| Friday | 10 Jul 2020 | GB Baseball: EC U12 Qualifier | Mortsel / Belgium | Participants: 7 National teams in 1 group |
| Saturday | 11 Jul 2020 | GB Baseball: EC U12 Qualifier | Mortsel / Belgium | Participants: 7 National teams in 1 group |
| Tuesday | 21 Jul 2020 | GB Baseball: EC U15 Qualifier | Antwerp-Hoboken Belgium Group | Participants: 14 National teams in 2 groups |
| Wednesday | 22 Jul 2020 | GB Baseball: EC U15 Qualifier | Antwerp-Hoboken Belgium Group | Participants: 14 National teams in 2 groups |
| Thursday | 23 Jul 2020 | GB Baseball: EC U15 Qualifier | Antwerp-Hoboken Belgium Group | Participants: 14 National teams in 2 groups |
| Friday | 24 Jul 2020 | GB Baseball: EC U15 Qualifier | Antwerp-Hoboken Belgium Group | Participants: 14 National teams in 2 groups |
| Saturday | 25 Jul 2020 | GB Baseball: EC U15 Qualifier | Antwerp-Hoboken Belgium Group | Participants: 14 National teams in 2 groups |
| Sunday | 26 Jul 2020 | GB Baseball: EC U15 Qualifier | Antwerp-Hoboken Belgium Group | Participants: 14 National teams in 2 groups |
| Monday | 31 Aug 2020 | Bank Holiday | | |
| Monday | 30 Nov 2020 | BBF Members 2020 insurance expires | | |
| Friday | 25 Dec 2020 | Bank Holiday | Christmas Day | |
| Monday | 28 Dec 2020 | Bank Holiday | Boxing Day | |
Follow the site to get the latest news and results straight to your email