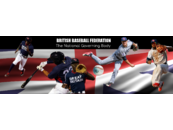 Anti-harassment policy
1. SCOPE
The British Baseball Federation (BBF) is an all-volunteer organisation. The company is committed to providing a working environment free of discrimination and/or harassment. We prohibit discrimination/harassment in our environment, whether committed by or against managers, colleagues, members, suppliers or visitors. We want our volunteers to work and grow in a healthy, respectful and productive environment.
Discrimination or harassment in the workplace based on race, colour, religion, gender, national origin, citizenship, age, sexual orientation, disability, marital status or any other basis prohibited by law, will not be tolerated. The BBF prohibits inappropriate conduct based on any of the above characteristics in the Federations business or at events sponsored by the NGB.
This policy applies to all behaviour related in any way to BBF activities, including off-site meetings, baseball events, training and business trips.
2. APPLICABLE
This policy applies to all current volunteers of British Baseball Federation including board members,
volunteers, suppliers, agents and also applies to volunteer role applicants.
3. DEFINITIONS
Harassment / discrimination
Harassment / discrimination is unwanted, unreasonable and offensive behaviour towards the person being harassed, which creates an intimidating, hostile or humiliating work environment for the person concerned.
There are different types of harassment that can occur in the environment, it can be based on:
Race, ethnic origin, nationality or skin colour
Gender identity and/or sexual orientation
Religious or political convictions
Membership or no-membership of a trade union
Disabilities, illness, sensory impairments or learning difficulties
Age
Pregnancy/maternity/paternity
This list is not exhaustive
Harassment is:
· Offending or humiliating someone physically or verbally;
· Threatening or intimidating someone;
· Making unwelcome jokes or comments about someone's race, national or ethnic origin, colour, religion, age, sex, sexual orientation, marital status, family status, disability or pardoned conviction.
Harassment can occur between people of the same sex or opposite sex.
Sexual Harassment
Sexual harassment has been defined as unwanted and unwelcome sexual advances, requests for sexual favours, and other verbal or physical conduct of a sexual nature that:
Is made either explicitly or implicitly a term or condition of being assigned as a BBF volunteer;
Issued as a basis for volunteer decisions affecting such an individual;
Has the purpose or effect of substantially interfering with an individual's performance and of creating an intimidating, hostile, or offensive work environment.
The BBF prohibits inappropriate conduct that is sexual in nature of work, on company business, or at company-sponsored events including the following:
· Offensive or humiliating behaviour that is related to a person's sex;
· Behaviour of a sexual nature that creates an intimidating, unwelcome, hostile or offensive work environment;
· Behaviour of a sexual nature that could reasonably be thought to put sexual conditions on a person's job or employment opportunities.
Comments, jokes, or degrading language;
Sexually suggestive objects, books, magazines, photography, cartoons, pictures, calendars, posters, electronic communications, or other materials;
Unwelcome sexual advances, requests for sexual favours, or any sexual touching;
Offering favourable terms or conditions of volunteering or benefits in exchange for sexual favours or threatening or imposing less-favourable terms or conditions of employment if sexual favours are refused.
Sexual harassment is prohibited whether it's between member of the opposite sex or members of the same sex.
4. MANAGEMENT AND VOLUNTEERS RESPONSIBIITY
All volunteers' supervisors have a responsibility to maintain an environment free of discrimination and personal harassment. Supervisors are directly responsible for the conduct of their staff and the smooth running of their area.
Also, the BBF expects all volunteers to comply with this policy and all employees to conduct themselves appropriately.
Supervisors are responsible for:
Promoting a harassment-free place and setting an example of appropriate behaviour in the volunteer place;
Communicating the process for investigating and resolving harassment complaints filed by participants;
Dealing with harassment situations immediately, informing his or her supervisor and informing the president of the BBF, after becoming aware of them, whether or not a harassment complaint has been made;
Taking appropriate action during a harassment investigation, including the separation of the parties to the harassment complaint, if necessary; and
Ensuring that harassment situations are handled in a sensitive and confidential manner.
Volunteers are responsible for:
Treating others with respect in the workplace;
Informing your immediate supervisor or the human resources department of any harassment;
Collaborating in a harassment investigation and respecting the confidentiality of the investigation process;
Those making a sexual harassment claim can expect:
To be treated with respect in the environment;
That reported harassment will be dealt with in a timely, confidential and effective manner;
To have their rights to a fair process and to confidentiality respected during a harassment investigation; and
To be protected against retaliation for reporting harassment or cooperating with a harassment investigation.
5. PROCEDURE
Creating an environment free of discrimination and harassment is everyone's responsibility. If you observe or believe that you are a victim of discrimination, sexual harassment or any other form of harassment at work, in the course of the company's business or any other activity sponsored by the company, you must immediately report it to one of the following:
Your manager or another manager in your management chain
The Senior Board Management of the BBF
A participant may file a harassment complaint by contacting his/her manager or the BBF Senior Board Management. The complaint may be verbal or in writing. If the complaint is made verbally, the manager or a member of the Senior Management team will record the details provided by the participant. The participant should be prepared to provide details such as what happened; when it happened; where it happened; how often and who else was present (if applicable).
Complaints should be made as soon as possible but no later than 30 days of the last incident of perceived harassment, unless there are circumstances that prevented the participant from doing so.
If you have something to report, or any questions please first contact the BBF directly by emailing info@britishbaseball.org provide your name, mobile number and email. Subject: Harassment Afterwards, a Senior Manager from the BBF will then contact you and follow-up with your complaint. Again, confidentiality is important to us, so we will aim to keep your details private. Please note we do not accept sexual harassment complaints anonymously.
IMPORTANT: a) Sexual harassment may amount to both a criminal matter, and be reported to the authorities such as in sexual assault allegations. In addition, harassment under the Protection from Harassment Act 1997 – which is not limited to circumstances where harassment relates to a protected characteristic – is a criminal offence. b) Any report of Hate crimes, such as racist crime and homophobic crime, you should report directly to law enforcement. For example, you can report the above to the Metropolitan Police national, non-emergency telephone number is staffed 24/7 by dialling 101 and ask to speak to your Community Safety Unit. You can report a hate crime directly to them or simply ask them for support or advice. If you're deaf or hard of hearing, use our textphone service on 18001 101.
Social, News & Weather
London uk
Overcast

11°C
Wind
Humidity
15 MPH SSW
82%
Never miss an update
Follow the site to get the latest news and results straight to your email