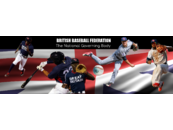 BBF Overview
The British Baseball Federation (BBF) is the National Governing Body (NGB) of Baseball in Great Britain. We receive no public funding to run our operations and are an all volunteer skilled entity. Our aim is to promote baseball, organise our rules, officials, leagues and oversee our sport. We promote diversity (policy link) in our sport, accept players from different age groups, nationalities, gender, sexual orientation and skills. We oversee our National Team Programme (GB Baseball).
We are registered with the Information Commission Office (ICO), and adhere to a GDPR personal data processing policy whereby: We process your personal data lawfully, fairly and in a transparent manner; We only collect your data for specified and legitimate purposes; Our collection of your data is limited to what is necessary to meet our minimum needs; We will not share or sell your personal data to a third party; We will destroy any data which is no longer required.
The BBF is a proud member to the World Baseball Softball Confederation (WBSC) www.wbsc.org. The WBSC is the world governing body for the sports of baseball and softball. WBSC's members hold the rights to organise and select National Teams. The WBSC has 193 National Federation Members in 133 countries and territories across Asia, Africa, Americas, Europe and Oceania. In addition, we are a member to the WBSC - Europe (CEB) www.baseballeurope.com
OBJECTIVES
To organise, and promote baseball in Great Britain on behalf of its membership.
To ensure the operational running of baseball is dealt with in a satisfactory manner.
To administer a national teams programme to represent the country in international baseball.
To carry out any other duties as the National Governing Body of baseball.
VALUES
Leadership.
Align costs to our objectives and minimise the financial impact on our members.
Improve our members' experience through systems and process optimisation.
We will change and improve as we align our activity with our intent to meet our objectives.
Value our members' as they are the key to the development of our sport.
Secure investment in our Federation.
Secure our assets.
Innovation.
Protect our members rights.
Financial resilence.
Operational effectiveness.
Collaboration.
Governance.
Promote equality.
Mitigating risks.
Effective communications.
Sustainability.
Encourage Sportsmanship.
Recognise the importance of officials.
Social, News & Weather
London uk
Overcast

11°C
Wind
Humidity
15 MPH SSW
82%
Never miss an update
Follow the site to get the latest news and results straight to your email