British Baseball Federation

British Baseball Federation
News Report
​Will Lintern appointed Pitching & Catching Coordinator for Great Britain Baseball
Author: BBF, 08/12/19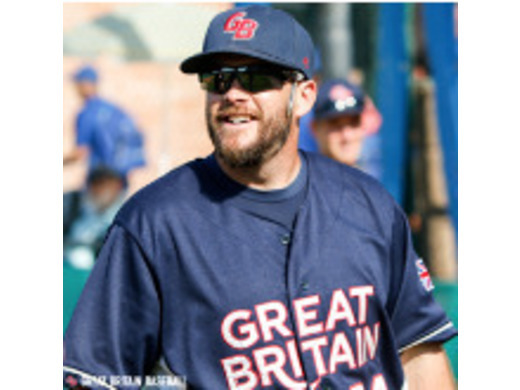 Will Lintern appointed Pitching & Catching Coordinator for Great Britain Baseball
Will Lintern has transitioned into the post of Pitching & Catching Coordinator. This new role will deliver consistent methodology across the national teams programme, developing more and better pitchers and catchers to help Great Britain perform on the international stage.
After spending the last nine seasons as Great Britain's U18 Head Coach, Will Lintern has transitioned into the post of Pitching & Catching Coordinator for Great Britain Baseball. While our players have benefited from the knowledge and experience of great coaches at these position groups over the years, Lintern's appointment will ensure consistent methodology and systems across the programme at both ends of the battery.
"We're thankful for Will's service as our U18 head coach and I'm delighted to announce this new and exciting role for our programme and community. We're excited not only for Will to get to work with our players, but to get out and help clubs and coaches develop their players into the best pitchers and catchers they can be." - Jason Pearce, National Teams Programme Official
Lintern's experience with Great Britain Baseball spans parts of three decades, playing at the U15, U18 and Senior levels, including at the 2009 Baseball World Cup. He attended Menlo College in Atherton, California where he played four years as a catcher and was named a team captain for his Senior season. In preparation for the 2009 Baseball World Cup Lintern played for the Gauteng Indians in Germany's Bundesliga. Lintern has a long playing history in the UK, first coming up through the youth system in Tonbridge that developed Great Britain alumni Nick Carter and Alex Malihoudis. He then moved to play in the then-named Rawlings National League for the Brighton Buccaneers where he won the first two of the seven NBL National Championships to his name. The other National Championships came in 2008 with the London Mets then in 2011, 2012 and 2013 with the Southern Nationals and again in 2018 with the Mets.
Lintern has served on the Senior National Team coaching staff since 2016, as First Base Coach at the 2016 European Championship and Bullpen Coach in 2019. From 2011 to 2019 Lintern skippered the U18 National Team, leading the team to an eighth-place finish at the 2016 European Championship and securing top-tier status for the first time in the programme's history. Lintern has also served as Pitching Coach at the U23 level. Previously Lintern was the Director of BaseballSoftballUK's High Performance Academy where he designed and implemented the first-ever British high-performance athlete development programme for baseball and its sister Olympic sport softball. He continues to lead pitching and catching instruction within the HPA. Away from baseball Will is a cricket throwing, fielding and power hitting specialist coach, most notably serving as the fielding coach for Cricket Ireland at the 2011 ICC Cricket World Cup and 2012 ICC T20 World Cup.
"Pitching and catching are at the very centre of this game, it's why they are collectively known as the battery. I'm thrilled to be given an opportunity that will have such a meaningful and direct impact not just on the teams that represent Great Britain Baseball but also the domestic leagues in the UK. I feel like my whole life and certainly the last 4-5 years of my development as a coach has led to this role. If we get the Inspire and Develop pieces by impacting players and coaches alike then the Perform part of the puzzle will naturally follow." - Will Lintern
In his new role Lintern will design, deliver and monitor player and coach development initiatives for pitchers and catchers that align with Great Britain Baseball's playing philosophy and core principles, ensuring consistency across the programme's five age groups. He will also focus on tailoring resources and clinics for the wider community, an important component of Great Britain's "Inspire, Develop and Perform" mission.
"This programme has leaned on overseas-based pitchers and catchers to succeed at the highest levels, and I believe this new role will better prepare our homegrown talent for the challenges of international competition - Will is the perfect fit to help them meet those challenges. I'm excited to see the impact he'll have on our programme and on British Baseball as a whole." - Liam Carroll
You can follow Will's coaching activities on Twitter (@will_lintern).
Great Britain Baseball is administered by the British Baseball Federation (BBF), the national governing body for baseball, and operates national teams at the U12, U15, U18, U23 and Senior levels. The BBF is a member of the World Baseball & Softball Confederation (WBSC).
Follow the site to get the latest news and results straight to your email