British Baseball Federation

British Baseball Federation
News Report
We salute our Officials
Author: BBF , 18/06/19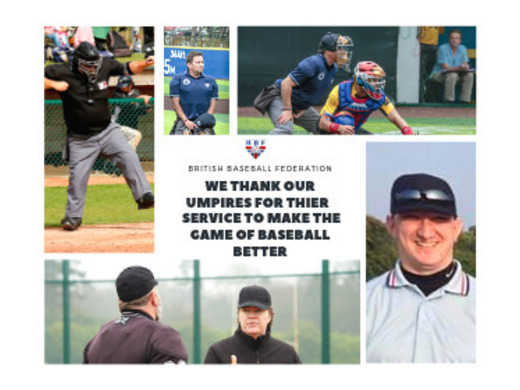 The role of our officials (umpires) is essential to develop our sport. Without our umpires, there would be no organised games, sustainability or credibility to our leagues or game itself.
It is essential to support our umpires and recognise them for their work done. The British Baseball Federation oversees officials. That is, we organise free clinics, assess our umpires (skills and knowledge) and provide support. However, we cannot do it alone and we must acknowledge the dedication, unselfish commitment by our officials throughout the British Baseball Community, to make improvements at each level.
"Umpires, like players, are expected to show constant improvement each season and at each level. "
We take this opportunity to show our appreciate for some of our best officials who are recognised not only nationally, but internationally.
The following umpires are eligible to umpire CEB competitions and are recognised as senior in BBF leagues:
Blake Taylor
Darrin Muller
Eddie Fannon
Gabor Erdos
Petter Nordwall
Thomas Haywood
During the week of 10th -16th June, after being chosen because of their high level of skill and experience, some of our most top officials were selected to umpire at the CEB Tournaments:
Gabor Erdos - CEB Federations Cup Qualifier - Pool 1, Moscow, Russia
Darrin Muller - CEB Federations Cup Qualifier - Pool 2, Blagoevgrad, Bulgaria
Other upcoming tournaments which will showcase our umpires:
Thomas Haywood - U12 (Juveniles) European Championship Qualifier, Trebic, Czech Republic
Petter Nordwall - U18 (Juniors) European Championship Qualifier, Sundbyberg, Sweden
Blake Taylor - U23 European Championship, Prague, Czech Republic
Here is to you British Umpires, thank you for your dedication to the British Baseball Community. You make us proud!
Follow the site to get the latest news and results straight to your email
Weather

12 MPH WNW
71% humidity
Sat

13°C
8°C
Sun

15°C
11°C
Mon

19°C
12°C
Tue

18°C
13°C