British Baseball Federation

British Baseball Federation
News Report
Register to attend a baseball umpire webinar
Author: BBF, 06/01/20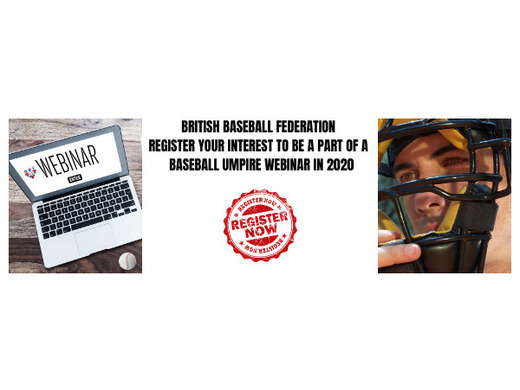 As the National Governing Body (NGB) of baseball, one of our remits is to oversee baseball officials (umpires). We provide the most advanced baseball umpire training (in person or online) for non-professional umpires in the UK. Through our free umpire webinars, we aim to offer you a comprehensive overview of mechanics, insights, tips and techniques.
We intend to host FREE webinars and physical clinics, before the 2020 BBF baseball season (which starts on the 5th of April). The webinars and clinics will include preparation before a game, equipment required and uniform attire, the strike zone, plate work, fieldwork and other essential insights into officiating a baseball game. The webinars will be fortnightly one-hour-long sessions held on weeknights via an online conference tool.
If you are a beginner, want to learn more about what it takes to be an umpire, baseball participant or umpire and want to take part in one of our FREE upcoming webinars please register your interest now. The mentioned is a great way to get ready for the 2020 British Baseball season.
REGISTER NOW link
Afterwards, we will email you dates and times available for you to attend, on a first-come and first-serve basis.
ABOUT US
The British Baseball Federation (BBF) is the recognised National Governing Body of the sport of baseball in the UK. The BBF is a non-profit entity, is a 100% self-funded organisation and an all-volunteer organisation.
Follow the site to get the latest news and results straight to your email
Weather

12 MPH WNW
71% humidity
Sat

13°C
8°C
Sun

15°C
11°C
Mon

19°C
12°C
Tue

18°C
13°C