British Baseball Federation

British Baseball Federation
News Report
London Archers (Youth) Baseball Win the PONY U14 Championship
Author: BBF , 06/05/19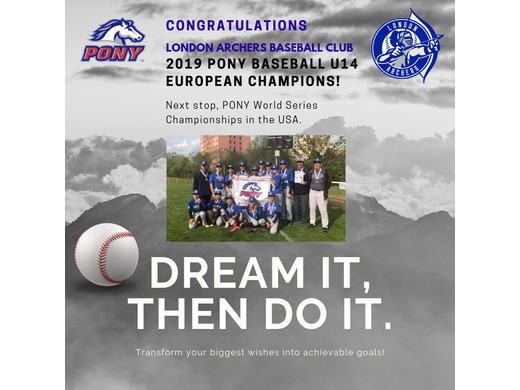 The SUMA European Pony League U14 and U16 Championship Tournament took place in Prague, CZ, with 36 teams taking part from all over Europe. The London Archers from Great Britain (both age groups) took part and competed against such powerhouse clubs and academies from Holland, Germany and Czech.
The London Archers U14 team won the tournament and are headed to play in the PONY World Series in August in the USA. The mentioned is a first in over 60 years of PONY competition in Europe. "The Archers are headed to the US and we are so proud of their players, coaches and volunteers who have worked long and hard to prepare and win the tournament. Congratulations on behalf of the entire British Baseball community," said a spokesperson for the British Baseball Federation (BBF).
The London Archers located in southeast England, are in their third year as a member of the British Baseball Federation. The Archers are an all youth club and compete each spring in national and international competitions. Playing opportunities are available for players from ages 10 to 16 years of age. To learn more about the London Archers https://www.londonarchersbaseb...
About: PONY Baseball and Softball™ https://www.pony.org began with organisation of the Pony League in Washington, PA in the summer of 1951. This was a transition league for 13-year-old and 14-year-old players designed to take graduates of Little League baseball from that diamond to the regulation size diamond. Growth of Pony League, primarily by word of mouth, was rapid, and by the end of the second season, 1952, the original six teams in Washington were joined by 505 others in 106 leagues around the country. A national tournament was conducted, and the first Pony League World Series was held that year. Source - PONY Baseball

Follow the site to get the latest news and results straight to your email