British Baseball Federation

British Baseball Federation
News Report
Lockdown option
Author: BBF , 30/04/20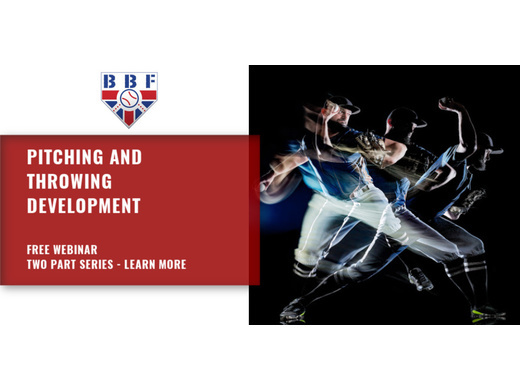 BRITISH BASEBALL FEDERATION - Free Webinar
Throwing Development Programme
TWO PART SERIES
Wed 6th May at 19:30 UK time
Wed 13th May at 19:30 UK time
PRESENTER
Bill Holmberg Major League Baseball Player and Coaches Development Co-ordinator for Europe and Africa
Other species can swim and run faster, have greater strength, can fly, climb better, and are quicker. What physical thing distinguishes us from any other species? The art of throwing i.e., further, with greater velocity and accuracy. What things distinguishes you from mitigating throwing injuries and being better at throwing a baseball and pitching? Knowing the right throwing and development baseball techniques.
The art of throwing a baseball and pitching are two of the most fundamental aspects of playing the sport. The art of being able to throw a baseball for accuracy, distance and velocity are pushing the boundaries of the sport. The powerful overhead motion of throwing a baseball requires strong forces and mechanics on the human arm. Not knowing the proper techniques, and development programme increases the likelihood of injuries and poor throwing performance.
Join us for our free webinar dedicated to the development of throwing and pitching. The purpose of the webinar is to provide you with intrinsic factors to develop your throwing and enhance your pitching performance. Further, to inform you of techniques to mitigate your risks of arm injury.
Expect some great insights, instruction and fundamental developmental techniques for throwing and pitching.
Available to anyone, from anywhere. Spaces are limited. Register now.link
Follow the site to get the latest news and results straight to your email
Weather

9 MPH SW
76% humidity
Mon

13°C
9°C
Tue

14°C
9°C
Wed

13°C
10°C
Thu

13°C
4°C