British Baseball Federation

British Baseball Federation
News Report
Key Performance Indicator
Author: BBF, 09/02/20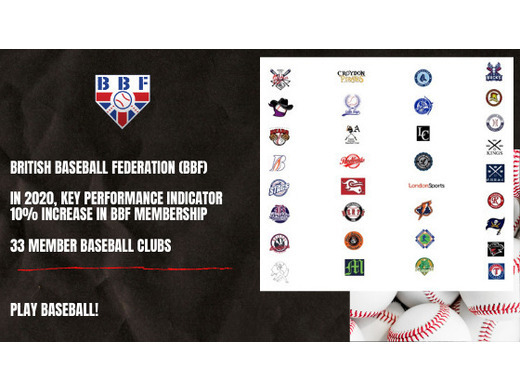 Sunday 9 February 2020
Mission statement
To advance and promote opportunities in baseball, so that participants in our sport can enjoy and expand their reach through our Federation.
British Baseball Federation
The British Baseball Federation, proudly announces its new list of registered baseball club members for the upcoming 2020 season (in alphabetical order):
BC Vetra
Birmingham
Bournemouth
Bracknell
Brentwood
Brighton
Bristol
Cartmel Valley
Croydon
East London
Essex Arrows
Essex Redbacks
Guildford
Herts
Kent Buccaneers
Kent Mariners
Leicester
London Archers
London Capitals
London Mets
LondonSports
Long Eaton
LYBL
Manchester
Milton Keynes
Northants
Norwich Iceni
Oxford Kings
Oxford University Lightning
Richmond
South Coast
The Rebeldes
Tonbridge
A spokesperson for the British Baseball Federation said, " By earning the confidence of 33 member clubs (including new ones) to take part in our Federation, it reinforces our baseball leagues continue to have the largest concentration of baseball players (youth and seniors), coaches, teams and officials in Great Britain. We can't wait to get the action started. Seniors Leagues - Opening Day, Sunday 5th April."
Catch the best British Baseball action from anywhere on British Baseball Federation TV (YouTube Channel), subscribe now, link.
Play Baseball!
There is still time to join us, club membership link
Follow the site to get the latest news and results straight to your email