British Baseball Federation

British Baseball Federation
News Report
Great Britain wins against Croatia
Author: BBF, 11/08/19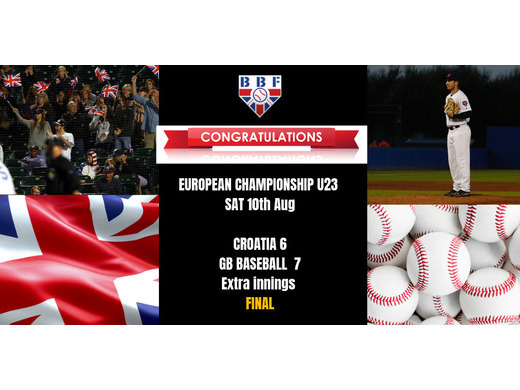 Great Britain wins against Croatia at the European Championship U23 Tournament in Czech.
Saturday, 10th August
On a drizzly and overcast day in the Czech Republic, two National Teams Great Britain and Croatia met in the Consolation Round at the European Championship U23.
GB Baseball was coming in from Pool-A and Croatia was coming into the game from Pool B.
The game was full of excitement as it extended into extra innings. GB Baseball in 10 innings of play sent 34 players to bat against Croatia. At the end, GB Baseball pulled out a dramatic 7 to 6 win over Croatia.
A regular game at the European Championship U23 Tournament was scheduled for seven innings. However, after being tied after seven innings, the CEB Tie-breaker rule went in effect. For example,
Each team will begin the first extra inning (and any subsequent necessary extra innings) with a player on first and second, no outs.
The batting order in any extra inning will be determined by how the previ- ous inning ended. That is, if the 9th inning ends with the #6 hitter having the last plate appearance (PA), then the 10th inning begins the #7 hitter at bat, and the #5 hitter at 2B and the #6 hitter at first base.
With the exception of beginning the inning with runners on 1B and 2B with no one out, all other "Official Rules of Baseball" and "C.E.B. Competition Rules" will remain in effect during extra innings required to determine a winner.
No player re-entry is permitted during extra innings.
The traditional system of the visiting team hitting in the top of the inning and the home team hitting in the bottom of the inning (if needed) will re- main in effect until a winner is determined.
In the end GB Baseball pulled out the win have scoring on a hit batter and forcing in the winning run, after defending against Croatia.
A spokesperson for the British Baseball Federation said," Today's game demonstrated the character of this team after yesterday's tough loss. The true sense of determination to play extra innings and still manage a win means which teams wants it most. With one game to go tomorrow, that game determines a lot as a win puts the team in a winning record for the tournament. We are all behind this team and tomorrow we encourage everyone to tune in. GB Baseball pride means everything to the BBF, British Baseball, Great Britain and of course to 65 million Brits. Let's take on Ukraine and WIN! GO GB BASEBALL!"
Next game, Sun 11th Aug 2019 at 10:00 BST GB Baseball vs Ukraine
Follow the site to get the latest news and results straight to your email