British Baseball Federation

British Baseball Federation
News Report
​Great Britain U18 Roster Announced
Author: BBF , 20/05/19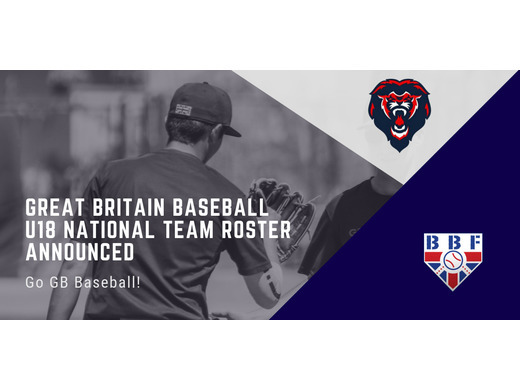 GB is seeking to bounce back following last year's relegation from the Championship. In 2016 the team finished 8th place – the best finish by a U18 Great Britain team at the tournament, but they were not able to repeat that success in Italy last summer. The last time GB played in a Junior European Qualifier was in 2014 where they place second and earned promotion to the European Championship. This summer a silver medal will not be sufficient as this year there are two pools with only the winners of each pool advancing to the European Championship. The other pool will play in Poland and will feature the National Teams of Austria, Hungary, Poland, Russia, Slovenia and Ukraine.
The selection process began in March with tryouts held in Hemel Hempstead alongside other age groups. A record number of players attended the tryouts which highlighted the depth and strength of talent starting to come through the British club system. Following the drafting of a provisional roster, talent was further evaluated in the UK - and across the world - to find the best 18 players eligible to play for Great Britain.
"I believe that this is a team that the British baseball community can get excited about," said Head Coach Will Lintern. "We have a broad depth of talent and experience on this squad and our energy and attitude is second to none.
"History tells us that if we play the game, our game, and not the opponent, then we will find success. We will focus on having quality at-bats and winning the free base war. We will believe in and live by our core values of attitude, integrity, confidence and hustle. We will stick with our process and not be distracted by outcomes. I am confident that when the dust settles, we will have prevailed."
The U18 Great Britain Roster
| | |
| --- | --- |
| NAME | TEAM |
| William Baranello | Point Beach HS, NJ, USA |
| Conor Baxter | London Sports / Richmond Knights |
| Dylan Baxter | London Sports / Richmond Knights |
| Will Clayton | London Mets |
| Alex Deacon | Herts Baseball Club |
| Ian Dellapina | ACS Cobham / London Sports |
| Michael Flaherty | American School in London / London Mets |
| Jaime Gustafson | London Mets |
| Josh Jackson | Hull Scorpions |
| Nathan Kettle | London Mets |
| Ben Morris | Bournemouth Bears |
| Aidan Pearce | London Mets |
| Oscar Stodart | Hoofddorp Pioniers, Netherlands |
| Joe Rawcliffe | Cartmel Valley Lions |
| Jack Seppings | Landmark Christian HS / Atlanta Warriors Georgia, USA |
| Nathan Simmons | Brighton Baseball Club |
| Mitchell vom Scheidt | Tanglin Trust School, Singapore / London Mets |
| Jamie Warren | TASIS England / Herts Falcons |
Leading the team for the 8th year is head coach Will Lintern. Further staff announcements will be made closer to the tournament.
Tournament Venue - Sundbyberg, Sweden
The Junior European Championship Qualifier will be hosted by the Sundbyberg Heat, a club in the top Swedish league Eliteserien. All games will be at played Orvallen, Sweden's national baseball facility which was built to host games in the 2009 Baseball World Cup.
IMPORTANT: The content on this site, including news, team scores/statistics/data, data and other information, is provided by the British Baseball Federation and its third party content providers for your personal information only, and is not intended for trading purposes. Content on this site is not appropriate for the purposes of making a decision to carry out a transaction or trade. Nor does it provide any form of advice or make any recommendations regarding particular service or products.
Neither British Baseball Federation nor its third party content providers (member clubs, officials, volunteers, BBF Board Members, National Team representatives) shall be liable for any errors, inaccuracies or delays in content, or for any actions taken in reliance thereon. BRITISH BASEBALL FEDERATION EXPRESSLY DISCLAIMS ALL WARRANTIES, EXPRESSED OR IMPLIED, AS TO THE ACCURACY OF ANY THE CONTENT PROVIDED, OR AS TO THE FITNESS OF THE INFORMATION FOR ANY PURPOSE.
Although the British Baseball Federation makes reasonable efforts to obtain reliable content from third parties, the BBF does not guarantee the accuracy of or endorse the views or opinions given by any third party content provider. This site may point to other Internet sites that may be of interest to you, however the BBF does not endorse or take responsibility for the content on such other sites.
British Baseball Federation (inclusive of National Teams) e-News:
Whilst the BBF has used reasonable endeavours to ensure that the information provided by the BBF in the e-news is accurate and up to date as at the time of issue, it reserves the right to make corrections and does not warrant that it is accurate or complete. E-News will change with time. The BBF hereby disclaims all liability to the maximum extent in relation to the E-News and does not give any warranties (including any statutory ones) in relation to the news. This is a free service and therefore you agree by receiving any e-news that this disclaimer is reasonable. Any copying, redistribution or republication of BBF e-news, or the content thereof, for commercial gain is strictly prohibited.
Follow the site to get the latest news and results straight to your email