British Baseball Federation

British Baseball Federation
News Report
Great Britain National Baseball Team wins
Author: BBF , 09/09/19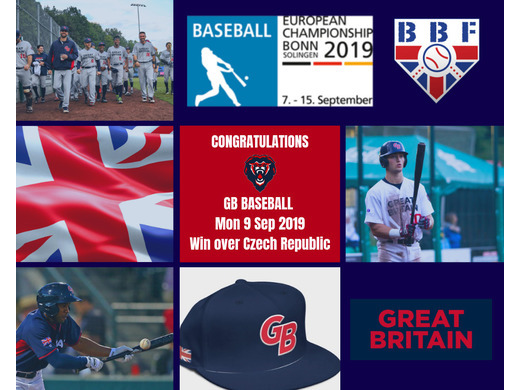 Monday, 9 Sept 2019
European Championship 2019 in Germany
The 2019 European Championship started on Saturday, 7 Sept in Bonn and Solingen, Germany. The top five teams will join South Africa in Bologna and Parma a few days after this tournament ends to battle for a single place in Tokyo.
__________________________________________________________________________________________________________________
Today, on an overcast day, the Great Britain team (ranked 38th in the world) took on the mighty Czech Republic National Baseball team (ranked 18th in the world) in Solingen, Germany.
The above came after a disappointing loss the night before to Germany (one run to nil).
Today, with Great Britain Baseball (GB Baseball) going down earlier in the weekend against the Netherlands and Germany, with the pundits about and the odds against, the GB Baseball team took to the field, lead by manager Liam Carroll. On the pitching mound righthander, for Great Britain, Alex Webb.
The game was a pitchers duel between starting pitchers until the fourth inning when Great Britain struck in the top of the inning. Alex Crosby (GB Baseball) reached first on a throwing error. He advanced to third moments later on a wild pitch and fielders choice. The mentioned brought up Ben Andrews (GB Baseball) who hit a triple to right centre, allowing Crosby to score.
One run up Great Britain remained, until the top of the sixth when GB Baseball again scored. That is, Jordan Serena (GB Baseball) hit a towering home run with no man on, making the score GB Baseball two and Czech Republic nil.
In the seventh, the GB Baseball team was able to add to the lead when GB Baseball journeyman Maikel Azcuy singled — after a sacrifice and tag up from second Azcuy advanced to third. Up to bat Will Savage singled to pick up the RBI. The inning ended with GB Baseball up three to nil against the mighty Czech Republic.
In the bottom of the seventh, we saw why Czech is ranked 18th in the world as they came back to tie the score three to three at the end of seven innings with some clutch hitting.
With decision time at hand Coach, Carroll made his pitching change by bringing in 6ft 3in, Lion, Paul Kirkpatrick (right-hander), in relief of Webb.
The game after nine innings was all tied at three to three.
------------------------------------------------------------------------------------------------------
NOTE: CEB extra innings rule is If the game remains tied after the completion of nine (9) innings, the following procedures will be implemented:
Each team will begin the first extra-inning (and any subsequent necessary extra innings) with a player on first and second, no outs.
The batting order in any extra inning will be determined by how the previous inning ended. That is, if the 9th inning ends with the #6 hitter having the last plate appearance (PA), then the 10th inning begins the #7 hitter at-bat, and the #5 hitter at 2B and the #6 hitter at first base.
Except for starting the inning with runners on 1B and 2B with no one out, all other "Official Rules of Baseball" and "C.E.B. Competition Rules" will remain in effect during extra innings required to determine a winner.
No player re-entry is permitted during extra innings.
------------------------------------------------------------------------------------------------------
So in the top of the tenth inning we go, we witnessed the CEB tie game rule (above in effect). For example, Richard Klijn (GB Baseball) was placed on second base and Brett Rosen (GB Baseball) on first base, no outs. The mentioned brings up Will Savage (GB Baseball) who reached on an error, which made it bases loaded. Up to bat Alex Crosby (GB Baseball) who hit into a double-play with the infield in, however, the ball just enough to the side of the Czech infielder who could only turn a doubleplay. The mentioned was enough to allow Klijn to score. The next three GB Baseball batters went down to end the inning; however, GB was now up one run.
In relief, for GB Baseball, Richard Brereton. Richard (winning pitcher) took command in the 10th inning and put the mighty Czech team down to earn GB Baseball the victory. Final score GB Baseball four and Czech Republic three.
All three GB Baseball pitchers (Webb, Kirkpatrick and Brereton) combined for 15 strikeouts against the high powered Czech Baseball National Team.
Liam Carroll, Head Manager for GB Baseball said after the game, "What an incredible effort from the guys today - to flush last night's loss, get back on the bus 10 hours later, and grind out a W in extras tells you everything you need to know about their attitude.
Loved seeing Alex back on the bump with us for the first time since 2014, what a job he did getting us deep into the game and Paul, and Richard were rock solid to end it. Just a gutsy performance in all phases against an excellent national team. Great to see the offence finding ways to win with contributions coming throughout the lineup. I can't wait to watch these dudes again tomorrow."
A spokesperson for the BBF said, "amazing the GB Baseball roster has been assembled with guys coming out of retirement (Roth), others putting on hold their university and professional baseball commitments, work, for a chance to represent Great Britain. An absolute tribute to the 24 man roster. Let us not forget, starting with our manager, Liam Carroll, the great coaching staff assembled for GB Baseball Hall from Great Britain, Brad Marcelino (GB Hall of Famer), Will Lintern, Mathew Troupe, Bill Percey, TS Reed and athletic trainer Jason Kirkman.
At the European Championship, underdog GB Baseball is lower ranked than other teams in their Pool (A). However, in true testament of an underdog team, e.g., like last night pitching gem by Roth to today's three pitcher gem victory against a much respected and excellent Czech team, we could not be prouder of our coaches, operational director, national team official, sports scientist = GB Baseball Team.
This Seniors team players and coaches stories on how they have chosen to compete for their country, warrant an example for others in British Baseball, i.e., country and team come first over other things when the need arises to represent 65 million Brits. We appreciate each of our coaches, operations director (Glen Robertson), players commitment, National Team Official (Jason Pearce) to GB Baseball.
We look forward to showcasing the best of the underdog Great Britain baseball TEAM against Europe's best throughout the next days. The true testament of these great individual players and coaches is they are coming together as a TEAM with short notice. Our Seniors Team are blending In each of the three games steadily and destiny awaits.
As Babe Ruth put it" "The way a TEAM plays as a whole determines its success. You may have the greatest bunch of individual stars in the world, but if they don't play together, the club won't be worth a dime." GAME ON, GB BASEBALL TEAM!
STANDINGS after today's results Pool A
| | | |
| --- | --- | --- |
| TEAM | Wins | Loss |
| 1. Germany | 2 | 0 |
| 2. Israel | 2 | 0 |
| 3. Great Britain | 1 | 2 |
| 4. Netherlands | 1 | 2 |
| 5. Czech Republic | 1 | 2 |
| 6. Sweden | 0 | 3 |
Next game, Tuesday, 10th September
Great Britain (ranked 38th in the WBSC global rankings) vs Israel (ranked 19th WBSC) at 11:30 BST from Solingen, Germany. Watch the game at https://www.baseballsoftball.t...
------------------------------------------------------------------------------------------------------------------------------------------------------------------------
GB Baseball Player Roster (Last Name in bold Caps, First Name)
THOMAS, Nateshon
CHARTRAND, Cody
MARTINEZ, Rei
BROWN, Conner
SERENA, Jordan
DAVISON, Gary
BRERETON, Richard
DIX, Jamie
CROSBY, Alex
KLIJN, Richard
AZCUY, Maikel
ROSEN, Brett
ANDREWS, Ben
HENDRIX, Greg
SAVAGE, Will
RITCHIE, Jamie
CORNELL, Conrad
KREISBERG, Spencer
ROTH, Michael
WEBB, Alex
KIRKPATRICK, Paul
SOLOMON, Ethan
ENRIGHT, Barry
COOPER, Daniel
Manager and Coaches
CARROLL, Liam - Manager
MARCELINO, Brad
TROUPE, Mathew
REED, TS
PERCY, Bill
LINTERN, Will
Operations Director
ROBERTSON, Glen
Trainer
KIRKMAN, Jason

National Team Official
PEARCE, Jason
Follow the site to get the latest news and results straight to your email