British Baseball Federation

British Baseball Federation
News Report
Great Britain Baseball New Women's Manager
Author: BBF , 31/05/20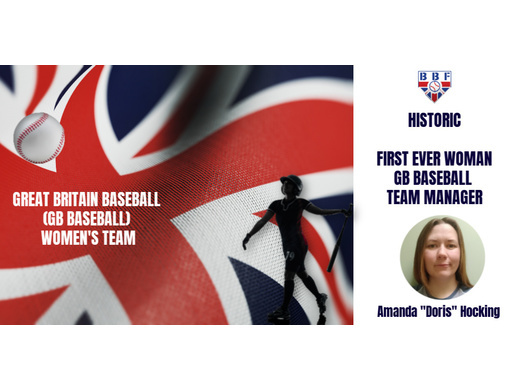 The British Baseball Federation (BBF) proudly announces the appointment of its first-ever Great Britain Baseball (GB Baseball) National Team Manager, Mrs Amanda "Doris" Hocking.

Amanda will report to Jason Pearce the head of GB Baseball National Team Programme Official.
A spokesperson for the BBF said, "Today's historic announcement of a new GB Baseball Women's Team and appointment of a woman manager, directly amplifies women's impact on the success of our sport. Moreover, we can say with certainty, we appointed Amanda, not because she is a woman, but because she is the most capable and skilled person for the job. Moreover, she demonstrates excellent leadership qualities (integrity, vision, positivity, and accountability). You can expect a lot from Amanda as she shares great personal values and dedication to make our Great Britain Women's National Team success."
The spokesperson, for the BBF, went on to say, "Throughout the BBF there are a lot of skilled women in positions of authority, e.g., directors, trustees, head coaches, players and managers of their clubs and teams. With the appointment of a woman manager to our GB Baseball Women's Team demonstrates how much women make up our sport and their skill warrants great recognition for their leadership. Our Women's Baseball Mission is to empower and promote women so they can experience and enjoy equitable baseball opportunities to reach their potential both nationally and internationally. Having Amanda managing our GB Women's Baseball team goes to our mission."
Amanda "Doris" Hocking Bio
Proud of her Rhode Island family roots, Amanda discovered her love for baseball and the Boston Red Sox. At age eight years of age, Amanda proudly brought her baseball equipment to school and asked her teacher if the class could play baseball instead of rounders, the teacher approved her request and was allowed to lead the classroom alongside her. Little did she know 25 years later, she would become the first manager of the Great Britain Women's National Team.
Amanda, who is commonly known by the name "Doris," started her baseball career as the first female player and a Committee member of the St Austell Claycutters (Now Cornish Claycutters). After leaving the Club at the end of the season, Amanda has been playing in France which has helped gain more experience and knowledge in developing women's baseball. After winning the Tomcat Baseball Club's Best Hitter Award in 2018, she was selected to play for the European team at the LG International Women's Baseball Tournament where she became the first Briton to represent the UK. Her efforts in developing the sport were recognised by WBAK - Women's Baseball Association Korea, who selected Amanda to open up the Tournament at the Opening Ceremony alongside Korean player Jung Hye Min.
Using her experiences as a baseball player, Amanda founded Women's Baseball UK in 2017, a nonprofit organisation that provides opportunities for girls and women to play, develop, coach, and lead in UK baseball. To help raise awareness for Clubs accommodating female players, Amanda proudly created the WB-UK Seal of Approval in hopes to form a more welcoming environment for everyone. By making small adjustments, this could lead to a positive and safe experience for all players across the UK. To help grow the sport further, Women's Baseball UK was incorporated under the British Baseball Federation umbrella on the 30th May 2020, securing a bright and confident future for baseball in the UK.
#BBFWomensBaseball
Follow the site to get the latest news and results straight to your email
Weather

12 MPH WNW
71% humidity
Sat

13°C
8°C
Sun

15°C
11°C
Mon

19°C
12°C
Tue

18°C
13°C