British Baseball Federation

British Baseball Federation
News Report
Great Britain Baseball beats Croatia
Author: BBF, 14/09/19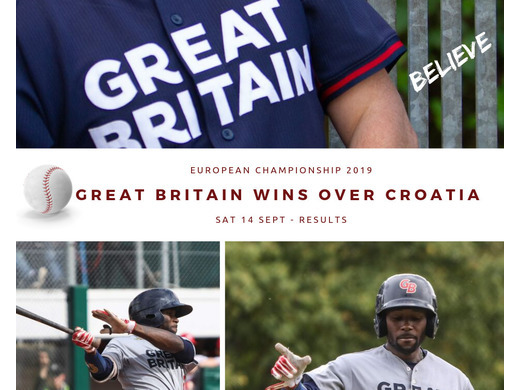 Sat 14 September 2019
Great Britain (GB Baseball) is now playing in the relegation round, at the European Championship 2019 (7 - 15 September), in Germany. The Relegation round of the tournament is double elimination round. Teams have the same chances going into Thursday. Each team needs two win two games in this round to stay qualified in the a-pool. As soon as a team loses two games, the team will be relegated to the qualifier.
Overall for the European Championship, the top five finishers of the 12-team event will advance to the WBSC Europa-Africa Qualifying Event for the Games of the XXXII Olympiad Tokyo 2020. The six-team tournament will be played in Bologna and Parma, Italy, from Wednesday 18 to Sunday 22 September. The only National Team so far qualified is South Africa.
The 12 National Teams participating in the European Championship are divided into two groups (PoolA and B). Great Britain Baseball is in Group A. The top four of each group will advance to the quarter-finals. The winners will farther advance to the semi-finals and earn a spot in the Bologna and Parma WBSC Qualifier. The losers will play for the fifth spot in the Qualifier. They will meet in their semifinals on Saturday, 14 September and compete for fifth place on Sunday, 15 September at 11 am local time.
Relegation Round
On Thursday, 12th September, Great Britain Baseball (GB Baseball) lost to Austria 6-1. Next up, was Sweden (13 September), and GB Baseball pulls out a much deserved win (12-2).
Going into Saturday, 14th September, GB Baseball wins over Croatia at the European Championship 2019.
GB Baseball pitchers Spencer Kreisberg (winning pitcher) and Michael Roth combine for a pitching gem win and must win over Croatia (5 to 1).
The scoring started for GB Baseball in the first inning when Will Savage doubled to right center. Followed by Jordan Serena walking. Both Savage and Jordan double stole successfully. Ben Andrews grounded out (RBI) to the pitcher, however Savage scored. Serena stole third, and scored on a throwing error by catcher.
In the second inning, GB Baseball struck again, when second baseman Richard Klijn single to centre field. Klijn advanced to second after a wild pitch. Thereafter, Jordan Serena singled earning an RBI as Klijn scored.
However, Croatia scored its first and only run of the game as well in the second inning.
Next scoring for GB Baseball came in the fourth inning, when Brett Rosen walked, Savage grounded out to third base and Rosen advance to second. Serena then singled down the left line, allowing Rosen to score.
In the seventh inning, GB Baseball - Ben Andrews was hit by a pitch. Andrews advance to second on a wild pitch. Richard Brereton advanced on Andrews with a deep fly out to centre field, which was deep enough for Andrews to tag up and advance to third base. Alex Crosby singled to right field (RBI) scoring Andrews.
The game ending after nine innings Croatia one run to GB Baseball (WIN) five runs.
Liam Carroll, Head Coach for GB Baseball, said, "While we've had to reset our originals goals this week, today's mission was clear cut and the importance of the win can't be understated. This team belongs in Europe's top tier, and came out of the gate with the approach and mindset to prove it.
Another dynamic offensive performance - hits were hard to come by against an arm who not that long ago was in affiliated baseball - Will's double to kick start that first inning was so important to set tone, early execution was outstanding, and the hits we did get were so timely, another mark of a great team.
Spencer and Michael - just outstanding shutting Croatia down, leaving runners out there and getting us back on on offense. Two of a staff full of dudes finding ways to win on short rest, who want the ball in the big spots.
Big performances continue to come from different places which is great to see. Alex Crosby came up huge today taking a hit away and driving in an insurance run. Jordan Serena is a warrior. Clutch RBI knocks and two massive defensive plays after fouling one off his leg. Just a warrior, with a ton of talent.
Can't wait to get back at it tomorrow, try to grab a fifth win, and enjoy watching this team one more time."
GB Baseball takes on Austria, on Sunday 15th September at 11:30 BST - BaseballSoftball.TV
A spokesperson for British Baseball Federation, said, "After six days of intense international competition, teams have drained their pitching and gone through a roll coaster of emotions. They say will always beats skill. On Sunday, we play a good Austrian team after getting defeated by them on Thursday. So it comes down to 24 players and six coaches GB Baseball team, in one game left in the tournament.
There are 65 million Brits worldwide, and we are PRIVILEGED to having our Seniors team to represent us on Sunday and throughout the European Championship. We wouldn't want any other 24 players (team), Director of Operations, Trainer, National Team Official or set of coaches to represent us in this tournament. Period!
Game on, bring on Austria. BELIEVE - GB BASEBALL."
GB Baseball Player Roster (Last Name in bold Caps, First Name)
THOMAS, Nateshon
CHARTRAND, Cody
MARTINEZ, Rei
BROWN, Conner
SERENA, Jordan
DAVISON, Gary
BRERETON, Richard
DIX, Jamie
CROSBY, Alex
KLIJN, Richard
AZCUY, Maikel
ROSEN, Brett
ANDREWS, Ben
HENDRIX, Greg
SAVAGE, Will
RITCHIE, Jamie
CORNELL, Conrad
KREISBERG, Spencer
ROTH, Michael
WEBB, Alex
KIRKPATRICK, Paul
SOLOMON, Ethan
ENRIGHT, Barry
COOPER, Daniel
Manager and Coaches
CARROLL, Liam - Manager
MARCELINO, Brad
TROUPE, Mathew
REED, TS
PERCY, Bill
LINTERN, Will
Operations Director
ROBERTSON, Glen
Trainer
KIRKMAN, Jason
National Team Official
PEARCE, Jason
Follow the site to get the latest news and results straight to your email