British Baseball Federation

British Baseball Federation
News Report
GET ACTIVE - THE BENEFITS MAY PROLONG YOUR HAPPINESS AND LIFE
Author: BBF, 07/01/20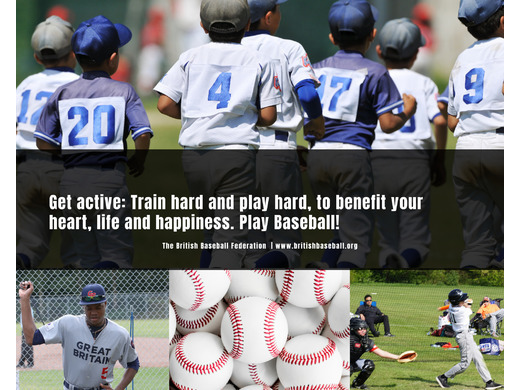 Tue 7 Jan 2020
BBF GET ACTIVE (CAMPAIGN) - THE BENEFITS MAY PROLONG YOUR HAPPINESS AND LIFE

Getting active in sports is a great way to "reduce your risk of significant illness, e.g., heart disease, stroke, type II diabetes and cancer, by up to 50% and lower your risk of early health by up to 30%. Further, research shows that physical activity can also boost self-esteem, mood, sleep quality and energy, as well as reducing your risk of stress, depression, dementia and Alzheimer's disease." according to the National Health Services (NHS). " Join us as we begin to promote everyone in getting active and play baseball.
BENEFITS
Playing baseball is a great full-body cardiovascular workout. Baseball builds the muscles of the heart, your cognitive thinking, the body, and improves hand-eye coordination. Further, baseball is played outdoors, where players are exposed to sunlight, which is a great natural source of vitamin D. Sufficient amounts of daily vitamin D intake are crucial for your body to be able to absorb and metabolize calcium and phosphorus.
Throughout Great Britain, there are baseball clubs to join (youth and seniors) and get active. Find a club near you link We aim to promote the above campaign throughout the year. GET ACTIVE: Train hard and play hard, to benefit your heart, life and happiness.
British Baseball Federation
Follow the site to get the latest news and results straight to your email