British Baseball Federation

British Baseball Federation
News Report
Germany wins against GB Baseball
Author: BBF , 08/08/19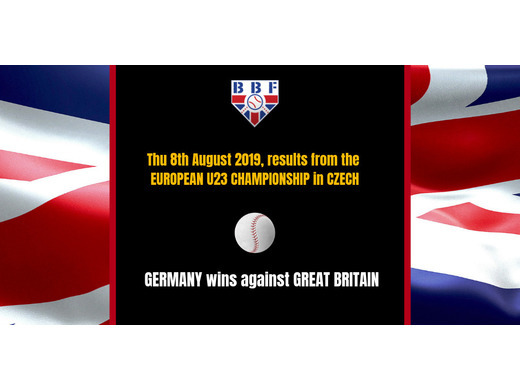 Germany beats GB Baseball at the European Championship U23 Tournament in Czech.
On day two of the competition at the European Championships, GB Baseball faced the German National Team. Both teams were coming in with one win and no losses.
GB Baseball started the game with yesterdays, batting lineup to face Germany, except for the starting pitcher. Overall, GB Baseball sent four pitchers to the mound in today's loss.
Today's game went the entire seven innings and we witnessed the strength of the German side as they won 12 to nil against GB Baseball. Germany dominated on the mound with a one-hit shut out, performance, by starting pitcher Benjamin Thaqi.
Overall offensively Germany scored 12 runs, on 11 hits and no errors in the game. Germany sent 29 batters to the plate in their 12 win performance over GB Baseball.
Compared to GB Baseball which only had one hit, no runs and no errors on the day. With today's loss, it brings GB Baseball's record to one win and one loss over two days in Pool-A. With four teams in Pool-A, Great Britain find themselves tied for second place with France, with one more day of regular competition left, before it is determined who GB Baseball face this weekend in the C Pool Standings (the best of Pool A vs Pool B).
STANDINGS
POOL-A STANDINGS
RECORD
GAMES BACK
1. Germany
2. France
3. Great Britain
4. Netherlands
2 Wins and Nil Loses
1 Win and 1 Loss
1 Win and 1 Loss
0 Wins and 2 Loses
0
1
1
2
POOL-B STANDINGS
RECORD
GAMES BACK
1. Czech Republic
2. Belgium *
3. Croatia *
4. Ukraine
2 Wins and Nil Loses
1 Win and Nil Loses
Nil Win and 1 Loss
0 Wins and 2 Loses
0
0.5
1.5
2
* Belguim and Croatia playing later tonight.
A British Baseball Federation (BBF), spokesperson said, "Any loss is unforgivable if you don't learn from it. It does not matter whether the score is one nil or a million to nil, it is the same result, a loss.
However, the signs of a true National Team (GB Baseball) Player and Coach is how you react and bounce back after a win and moreover, after a loss. When you play or coach for the Great Britain National Team, you play for the honour to represent 65 million Brits worldwide. You represent not yourself, not a team, rather a nation (Great Britain). Nothing more important and worth picking yourself up after a loss and moving on to the next game then to represent Great Britain. So, bring on France. Game on!
Thu 8th August, France vs GB Baseball at 12:30 BST.
Follow the site to get the latest news and results straight to your email