British Baseball Federation

British Baseball Federation
News Report
GB Baseball set to compete in the European Championships U23 Tournament
Author: BBF, 04/08/19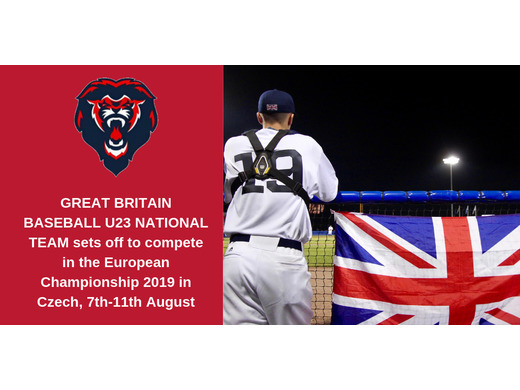 Great Britain Baseball National Team U23 prepares to take part in the European Championship in Prague, Czech.
The Confederation of European Baseball (CEB) is the governing body of baseball within Europe. CEB organises the European Competitions of which our National Baseball Teams take part.
In 2019, the European Championship U23 Tournament is made up to two Pools:
Standing Pool A
France
Germany
Great Britain
Netherlands
Standing Pool B
Belgium
Croatia
Czech Republic
Ukraine
GB Baseball is scheduled to play three (seven-inning) games in the first three days of the Tournament. The GB Baseball U23 Team resolve will be tested early with three back-to-back games against European powerhouses the Netherlands, Germany and France.
Schedule
Wednesday, 7th August the Netherlands vs GB Baseball.
Thursday, 8th August Germany vs GB Baseball.
Friday, 9th August France vs GB Baseball.
GB Baseball's record over three days of competition (above) will determine if and where they place against teams from both Pool's on Saturday, 10th through the 11th August.
The overall winner of the Tournament is declared the European U23 Champion 2019. The teams finishing in 1st and 2nd place will qualify for the 2020 WBSC U23 Baseball World Cup. The teams placed 7th – 8th will be relegated to the European Championship Qualifier, which takes place in 2020.
This year's GB Baseball U23 Team is lead by first-year head coach Drew Spencer. Coach Spencer said, "I'm humbled by the opportunity to work with this exceptional group of players and to represent Great Britain. A lot of work has gone into putting us in the position we are in to compete. To have the opportunity to win a championship is what every Baseball player gets out of bed to compete. We have that chance, and I'm confident that this Team is going to show up with the attitude and the energy that it takes to win.All summer long, GB Baseball & Softball teams have been making us proud. Now it's time for the U23s to do our part."
GB Baseball players on the roster are a maximum age of 23 years (born in 1996).
GB BASEBALL U23 ROSTER (last name, first name)
ARMSTRONG, LUKE
BERGER, ELLIOT
BOHN, DEXTER
CASAL, CARLOS
DIAZ, JUAN
DIX, JAMIE
FRETHEIM, JONATHAN
HASSANI, AUSTIN
KIRKPATRICK, PAUL
McGRATH, CONOR
MOSIER, FREDERICK
QUACKENBUSH, IVAN
RODRIGUEZ, MIGUEL
SABISTON, LIAM
SOLLECITO, MATTEO
VOM SCHEIDT, MITCHELL
MOLINA, SEBASTIAN
COACHES (last name, first name)

SPENCER, ANDREW - head coach
CRAMMAN, JONATHON
LAINOFF, BRIAN
RODRIGUEZ, JONATHAN
MINFORD, RICHARD
Also, travelling to Czech is BBF Official, Blake Taylor who was selected to umpire for the week and represent Great Britain.
A spokesperson for the British Baseball Federation said, " Our Programme has gone through a transformation under the watchful eye of first-year National Team Official - Jason Pearce. Leading up to next week, our U12, U15 and U18 have positively proved the strong sense of group commitment to succeeding, not just go to compete and place in the tournaments. With the new changes (personnel and ways of doing things) innovation and distinct viewpoints are expected. The National Baseball teams have a lot of new players, coaches and volunteers. The coaches are continually assessing themselves and continuously improving their processes, practises and interacting with other coaches and players, throughout the Programme. The new coaches are gaining the support and commitment from our senior and experienced coaches (Will Lintern and Liam Carroll). The mentioned both are showing strong leadership by demonstrating to the new coaches and volunteers their dedication to the GB Baseball Programme over the years, which we are grateful as a Federation." The BBF spokesperson went on to say, "A lot has gone in the preparation of our U23 Team. Now we look forward to their participation at the European Championship in Czech. We look forward to the debut of coach Spencer and the new U23 Team. Go GB Baseball."
The game schedule is published, and you can follow the action for every game on the CEB competition website.
Follow the site to get the latest news and results straight to your email