British Baseball Federation

British Baseball Federation
News Report
Free webinar: Baseball Player Development
Author: BBF , 15/05/20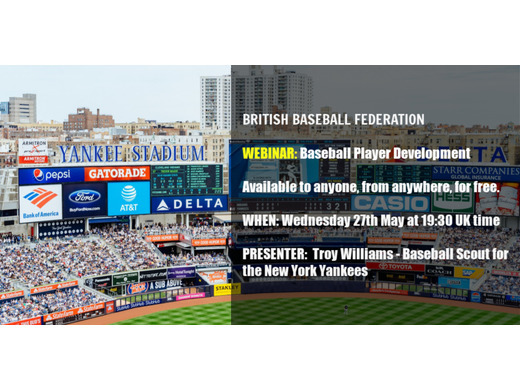 Players vary in skill and ages. Developing players to progress from youth to adult takes patience, commitment, objectives, a plan, and strategy.
ABOUT THE FREE WEBINAR:
Player Development (the individual within the concept of a team sport)

Learn practical coaching and player development methods in this webinar by Troy Williams, New York Yankees Baseball Scout. This webinar allows you to reflect on your practices and coaching roadmap to develop players. You'll be exposed to insights from Troy, who has over 25 years of professional international baseball experience, on how players develop and discover how to apply his ideas.
Use this webinar to review your methods and update your knowledge by adopting a more conscious, collaborative and refined approach to your coaching or own player development.
On completion of this webinar, you'll get:
The knowledge to create a positive, supportive, and inclusive coaching and player setting through the application of objectives and development player building techniques.
Practical techniques on how to deliver a coaching session, make it notable and narrow the knowledge gap between yourself and your players.
An understanding of key objectives in developing game plan and practises.
At the end of the webinar you can interact online with the presenter and ask questions.
#BBFWebinars Wednesday, 27 May at 19:30 UK time

REGISTER NOW click here
Follow the site to get the latest news and results straight to your email
Weather

0 MPH W
59% humidity
Tue

24°C
18°C
Wed

18°C
13°C
Thu

15°C
11°C
Fri

13°C
10°C