British Baseball Federation

British Baseball Federation
News Report
France wins against Great Britain
Author: BBF , 10/08/19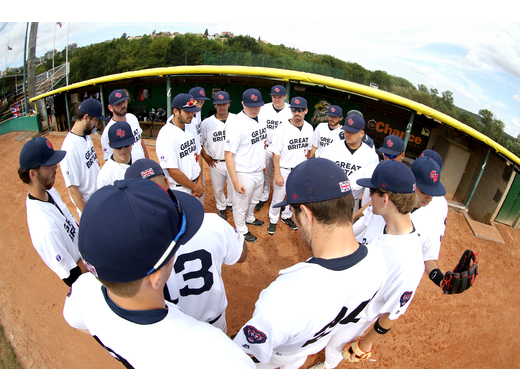 On Friday, 9th August, France played a robust seven-inning game to produce a well-deserved win against GB Baseball. The final score being France 8 and GB Baseball 2.
After 26 team at-bats in a seven-inning game, GB Baseball battled to get two runs against France, on seven hits with one extra-base hit (double).
Defensively, GB Baseball committed two errors in the game. However, except the mentioned GB Baseball played a solid defensive game on the field.
Alternatively, France came in swinging for the fences, as they produced three home runs in their 8 run win.
With the loss on Friday, it drops GB Baseball record to one win, and two loses. GB Baseball finishes in the three first days of competition in Pool A with the final standings:
STANDINGS
POOL-A STANDINGS
RECORD
GAMES BACK
1. Germany
2. France
3. Great Britain
4. Netherlands
2 Wins and 1 Loss
2 Win and 1 Loses
1 Win and 2 Loses
1 Wins and 2 Loses
0
0
1
1
POOL-B STANDINGS
RECORD
GAMES BACK
1. Czech Republic
2. Belgium
3. Ukraine
4. Croatia
3 Wins and Nil Loses
2 Win and 1 Loss
1 Win and 2 Loses
0 Wins and 3 Loses
0
1
2
3
Next up for GB Baseball as a result of the above standings:
Sat 10th August: Great Britain vs Croatia at 15:00 BST.
Sun 11th August: Ukraine vs Great Britain at 10:00 BST.
A British Baseball Federation (BBF), spokesperson said, "Win or lose we are proud how the team played and they applied their best they had on the day. However, tomorrow is another day and as the team prepares, so do we, in support of them from afar. We don't know what the two next days of competition brings, or where the story ends. But we know where the story starts. That is, it is up to the team to go all out in the next two days of competition. We believe in this coaching staff and players. It will be the effort and determination the team shows throughout the entire tournament, not just one or three days. GO GB BASEBALL!"
Follow the site to get the latest news and results straight to your email