British Baseball Federation

British Baseball Federation
News Report
Covid-19 (coronavirus)
Author: BBF, 04/03/20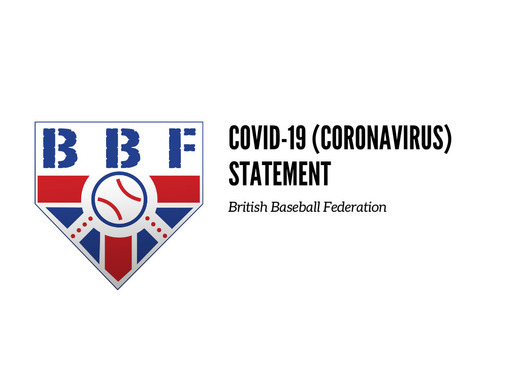 Wed 4 March 2020
British Baseball Federation (BBF) Covid-19 (coronavirus) statement
In light of the Covid-19 (coronavirus) situation, the British Baseball Federation (BBF), is carefully assessing the situation on an ongoing basis. That is, we are closely monitoring the status and seeking advice from health and government agencies (from here and abroad). We ask our members and participants to also keep up with the latest information, available on the government website https://www.gov.uk/guidance/coronavirus-covid-19-information-for-the-public and the NHS https://www.nhs.uk/conditions/coronavirus-covid-19/
We ask everyone to take care of your health and protect others by doing the following:
Wash your hands frequently and regularly.
Refrain from unnecessary contact, if possible., e.g., shaking hands and avoid touching your eyes, nose and mouth.
If you experience any symptoms, e.g., difficulty breathing, cough and fever, seek medical treatment. Don't return to action until you are given the all-clear.
Throw away any tissue after use, to prevent contamination.
Don't share drinking from the same bottle or glass.
Clean and disinfect your baseball equipment.
Practise good hygiene, mitigates your risks of catching the virus.
Avoid travel to any countries where government warnings are in place.
The BBF is monitoring the Covid-19 (coronavirus) situation and scheduled league play. The health of our participants and fans is of great importance to us. We intend to put out prompt communications if the condition worsens or of any material government action.
Opening Day is scheduled for the 5th of April. As of now, we are going through with our schedule. However, we will react if required. We ask for your patience, calm and best practises in avoiding the spread of Covid-19 (coronavirus).
Please stay tuned to our website and our communications for future updates.
Follow the site to get the latest news and results straight to your email