British Baseball Federation

British Baseball Federation
News Report
Congratulations Blake Taylor
Author: BBF, 21/01/20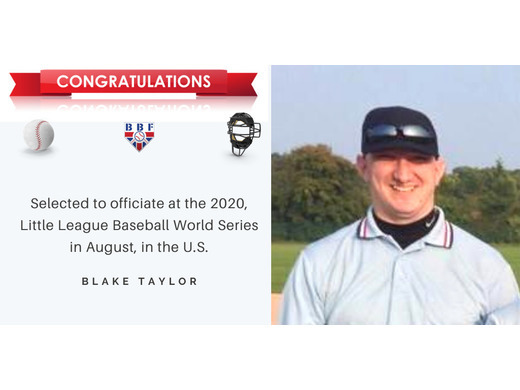 Founded in 1939, Little League® Baseball and Softball is the world's most extensive organised youth sports program, with millions of players and more than one million adult volunteers in every U.S. state and more than 80 other countries.
Annually, through July and August, Little Leaguers® from around the world compete to determine seven (different ages, baseball and softball) World Series champions. The mentioned all culminates at the Little League World Series, on August 1 with the Senior League Baseball World Series in Easley, South Carolina, and ending the Little League Baseball® World Series from August 20-30 in South Williamsport, Pennsylvania. In 2020 Little League World Series tournament schedule will span 30 days with approximately 935 Little Leaguers® ages 10 to 16 from 78 different baseball and softball teams around the world competing to determine the seven World Series champions.
In the U.K. Little League Baseball Qualification begins in March and goes through June. In June, the winners of the U.K. Little League Baseball Qualifier tournament then advance to Kutno, Poland to play in the European-Africa Qualifiers link. Winners from the mentioned advance to the US World Series. Youth teams registered with the British Baseball Federation only, qualify for eligibility to the U.K. Qualifiers. To learn more about UK Little League refer to the following link.
"Selection as an official to take part in the Little League World Series is a great honour for Blake Taylor. Last year, Blake umpired over 90 youth games in the U.K. So, his dedication and skill being recognised to take part in the Little League World Series in the U.S. is something the entire British Baseball community is proud of Blake. Becoming a Little League official requires a lot of engagement in knowing the rules (which are specific for Little League), understanding the field officiating mechanics, getting assessed on your officiating from third parties, and your continued commitment in your education in refining your skills.
Blake is a long-standing umpire in Great Britain, in both youth and seniors baseball. His experience, skill and enthusiasm are traits that defines a great official, said a spokesperson for the British Baseball Federation (BBF). The BBF spokesperson went on to say, "to put it in perspective, there are well over 10,000 Little League games played worldwide, and less than one per cent of the officials involved get selected to officiate at the World Series. Blake Taylor is one of the select few, who have earned the mentioned honour. Well done!"
Leading up to the Little League World Series, in August in the U.S., you can find Blake umpiring local Little League games.
Follow the site to get the latest news and results straight to your email