British Baseball Federation

British Baseball Federation
News Report
British Baseball Federation - Seniors Recap (Friday 24th May 2019)
Author: BBF: Greg Kettle , 24/05/19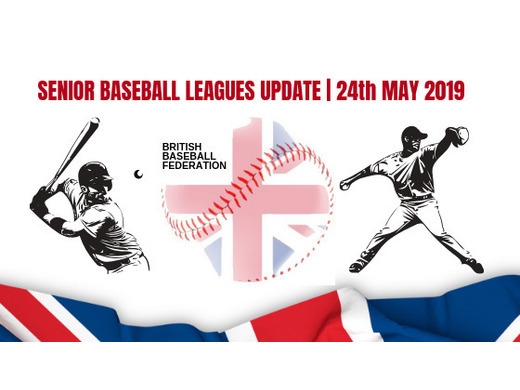 British Baseball Federation - Seniors Recap (Friday 24th May 2019)
With four weeks worth of games being played across British baseball, now is a good time to look at how leagues and divisions are shaping up. Reigning champions look to cement their dominance, while new entrants set out to make a name for themselves. With much of the season still to play, there will be stories that will develop and grow as the summer goes by. Here we'll look a the story so far. Please read to the end so I can let you know how you can help me to write weekly game reports this year.
NATIONAL BASEBALL LEAGUE (NBL) DIVISION
TEAMS
ESSEX - Arrows
HERTS - Falcons
LONDON - Capitals
LONDON - Mets
So far there has been only one name in the NBL: The London Mets. With eight games already played this year, the Mets are yet to be beaten by any of their three league opponents. With a run differential of +63, it may seem like the book can be closed on the NBL already this year, but that couldn't be further from the truth. City rivals the London Capitals have already pulled off close pitchers duels in the early going, proving that the league can still be as competitive as ever. The Capitals, Herts Falcons and Essex Arrows all sit within a game of each other, meaning the battle for playoff positioning will be fierce down the road.
TRIPLE-A DIVISION
TEAMS
East London Latin Boys
Essex Redbacks
Herts Londoners
Kent Buccaneers
London Mammoths
Oxford Kings
Richmond Knights
AAA has seen a complete mix up in terms of the dominant teams. Last year's champions Richmond Knights have gotten off to a slow start with a 2-6 record, putting them well of the pace. The top of the division has so far been a battle between the East London Latin Boys and the Essex Redbacks, both of whom are the only teams to hold positive run differentials so far. With only a single game separating them, this will be a battle that persists throughout the season. Herts Londoners, London Mammoths, Kent Buccaneers and Oxford Kings all remain in the hunt, looking to get a hot streak going to help them climb up the standings.
DOUBLE A | Pool A
TEAMS
Bournemouth Bears
Brighton Jets
Bristol Badgers
Guildford Mavericks
Herts Hawks
Richmond Dragons
Herts Hawks have remained undefeated so far this year, pulling off four consecutive wins early on to sit atop the standings. Bournemouth Bears are the only other team in the division to have pulled out wins against their opponents so far, with an early season sweep. Brighton Jets, Richmond Dragons, Bristol Badgers and Guildford Mavericks all look to secure their first wins of the season quickly so that they can begin to close the already large gap that the Herts Hawks have managed to create.
DOUBLE-A | Pool B
TEAMS
Brentwood Stags
Cambridge Monarchs
London Marauders
London Sidewinders
Milton Keynes Bucks
Norwich Iceni
Pool B is already shaping up to be a fierce fight between two London teams, the Sidewinders and the Marauders. The Marauders have taken the early lead with a 6-0 record, but the Sidewinders sit close behind at 7-2. Cambridge Monarchs aren't far back, and they are followed closely by Milton Keynes Bucks and Norwich Iceni. Rounding out the division are the Brentwood Stags, will be looking to change their fortunes as the season progresses.
Single-A | Pool A
TEAMS
Bracknell Inferno
Essex Archers
Essex Redbacks (A)
Herts Eagles
Herts Raptors
London Musketeers
London Mustangs
Richmond Dukes
The London Musketeers have been a dominant force in their division, scoring an incredible 180 runs in their first ten games this season, the most of any team across all leagues. The has led them to a comfortable first place so far, but Bracknell Inferno, Essex Archers and Richmond Dukes have all been able to prevent London from extending the gap even more, with strong starts to their campaigns. Essex Redbacks, Herts Raptors, London Mustangs and Herts Eagles all look to turn their season around in the hopes that they can catch the early leaders.
Single-A | Pool B
TEAMS
Brighton Jets (A)
Guildford Millers
Kent Buccaneers
Kent Mariners
South Coast Pirates
Tonbridge Bobcats
Tonbridge Wildcats
A tight race at the top of the standings between the Kent Buccaneers and the South Coast Pirates looks like it could be the defining feature of this division this year, with both teams sitting at eight wins so far. Guildford Millers and Kent Mariners will both look to turn their .500 win records into more as they progress through the season. While the Tonbridge Bobcats, Brighton Jets and Tonbridge Wildcats will seek to find themselves in the win column more often than they have already, as all three have struggled to get anything going early on.
Single-A | Central
TEAMS
Birmingham Bandits
Birmingham Outlaws
Cambridge Lancers
Cambridge Royals
Leicester Blue Sox
Long Eaton Storm
Northants Centurions
Three teams have all put themselves in strong positions to win this division so far. Long Eaton Storm and Leicester Blue Sox both sit at 7-1, but Birmingham Bandits are only two games back with many games left to play. Not far behind Birmingham are Northants Centurions. Cambridge Royals, Birmingham Outlaws and Cambridge Lancers have big hills to climb to get back into contention, but it is far from an impossible task and one that they will be very focussed on in the upcoming weeks.
IMPORTANT: The content on this site, including news, team scores/statistics/data and other information, is provided by the British Baseball Federation (BBF) and its third party content providers for your personal information only, and is not intended for trading purposes. Content on this site is not appropriate for the purposes of making a decision to carry out a transaction or trade. Nor does it provide any form of advice or make any recommendations regarding particular service or products.
Neither the BBF nor its third party content providers (member clubs, officials, volunteers, BBF Board Members, National Team representatives) shall be liable for any errors, inaccuracies or delays in content, or for any actions taken in reliance thereon. THE BBF EXPRESSLY DISCLAIMS ALL WARRANTIES, EXPRESSED OR IMPLIED, AS TO THE ACCURACY OF ANY THE CONTENT PROVIDED, OR AS TO THE FITNESS OF THE INFORMATION FOR ANY PURPOSE.

Although the BBF makes reasonable efforts to obtain reliable content from third parties, the BBF does not guarantee the accuracy of or endorse the views or opinions given by any third party content provider. This site may point to other Internet sites that may be of interest to you, however the BBF does not endorse or take responsibility for the content on such other sites.
Whilst the BBF has used reasonable endeavours to ensure that the information provided by the BBF is accurate and up to date as at the time of issue, it reserves the right to make corrections and does not warrant that it is accurate or complete. BBF E-News will change with time. The BBF hereby disclaims all liability to the maximum extent in relation to its E-News and does not give any warranties (including any statutory ones) in relation to the news. This is a free service and therefore you agree by receiving any e-news that this disclaimer is reasonable. Any copying, redistribution or republication of BBF E-News, or the content thereof, for commercial gain is strictly prohibited.

Follow the site to get the latest news and results straight to your email