British Baseball Federation

British Baseball Federation
News Report
BBF COVID-19 Update
Author: BBF, 11/05/20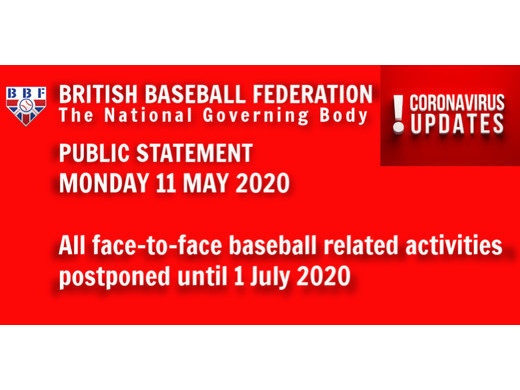 Monday, 11 May 2020
British Baseball Federation (BBF) National Governing Body (NGB) continuity public statement as a result of COVID-19
The COVID-19 pandemic has materially impacted lives and society. First and foremost, our thoughts go out to the families of those which have been lost, those who are ill, those health care workers who have been working endlessly to treat others, and those who's financial livelihood's have been unsettled.
Over the last few weeks, we have been reviewing internal and external factors as part of our NGB continuity plan to move to our recovery phase i.e., to begin face-to-face activities when best possible. We have and continue to assess health and safety guidelines, our stakeholders, government, operational and other requirements before we move our NGB continuity plan into its recovery phase (the resumption of face-to-face activities).
On Sunday, 10 May 2020, the UK government has made a decision to begin easing the lockdown in stages, timeframes and under specific conditions.
We appreciate your interest in us to resume face-to-face activities for our sport promptly. However, we must take a measured and careful response as set forth by the UK government timeframes and conditions, to protect and reduce the risks to the health and safety of our participants. Thus, we will extend the suspension of the start of all our face-to-face activities until the 1st of July. If there is a change of guidance from the UK government we are prepared to revise our start date.
We are committed to starting our face-to-face activities when we get the all-clear. So keep the faith.
Follow the site to get the latest news and results straight to your email
Weather

0 MPH W
59% humidity
Tue

24°C
18°C
Wed

18°C
13°C
Thu

15°C
11°C
Fri

13°C
10°C