British Baseball Federation

British Baseball Federation
News Report
As a result of the coronavirus pandemic
Author: BBF, 19/03/20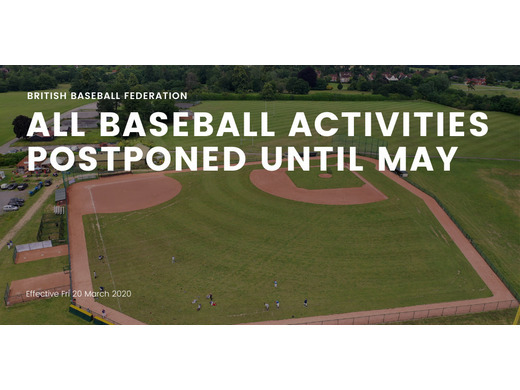 Thursday, 19 March 2020
As a result of the coronavirus pandemic, British Baseball Federation (BBF) activities postponed until May
The safety and well being of the baseball community we serve is of paramount importance to us. Effective Friday, 20th March, all BBF baseball activities (practices, tryouts, and leagues) are postponed until May.
We will continue to monitor the coronavirus situation and communications from world medical associations and the government. Expect more updates from us on the coronavirus impact on our activities.
Remember "In any crisis, there will be doubt, inconvenience and confusion, however, take the higher path - the path of compassion, courage, sharing your concerns with others you trust, patience, understanding and keep the faith."
British Baseball Federation
Follow the site to get the latest news and results straight to your email
Weather

12 MPH WNW
71% humidity
Sat

13°C
8°C
Sun

15°C
11°C
Mon

19°C
12°C
Tue

18°C
13°C