British Baseball Federation

British Baseball Federation
News Report
Archer Cup - 28 - 30 June 2019 at Farnham Park
Author: BBF , 13/05/19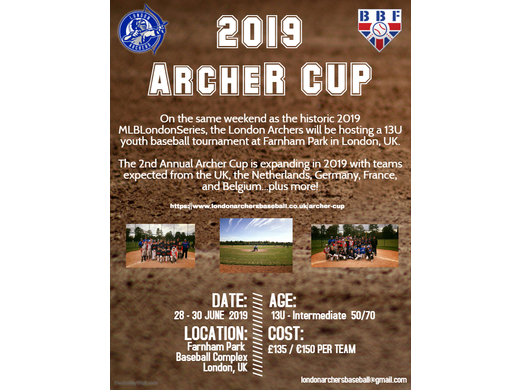 Archer Cup - 28 - 30 June 2019 at Farnham Park
The London Archers will be hosting the second annual, 2019 U13 Archer Cup on the 28th - 30th June at Farnham Park (Slough, UK), for ages 13U and intermediate. The tournament will take place on:
Friday 28th June (all day).
Saturday, 29th June (until 16:00).
Sunday, 30th June (until 13:00).
NOTE: The above schedule has been set up this way to accommodate those who are planning to attend the Major League Baseball (MLB) London Series games on Saturday 29th and Sunday 30th June. For those staying at Farnham Park, after the games the Archers will be hosting a MLB game watch party on Saturday 29th June in the evening.
COST PER TEAM: £135 or EUR 150
To register your team email londonarchersbaseball@gmail.com
TEAMS CONFIRMED
| | | |
| --- | --- | --- |
| London Archers Blue | United Kingdom | |
| London Archers Red | United Kingdom | |
| Hoofdorf Pioneers | Netherlands | |
| KMC Ambassadors | Germany | |
| Baseball Academy Scimitars | Netherlands | |
| Brussels Baseball Academy | Belgium | |
For more details https://www.londonarchersbaseball.co.uk/archer-cup
IMPORTANT: The content on this site, including news, team scores/statistics/data, data and other information, is provided by the British Baseball Federation and its third party content providers for your personal information only, and is not intended for trading purposes. Content on this site is not appropriate for the purposes of making a decision to carry out a transaction or trade. Nor does it provide any form of advice or make any recommendations regarding particular service or products.
Neither British Baseball Federation nor its third party content providers (member clubs, officials, volunteers, BBF Board Members, National Team representatives) shall be liable for any errors, inaccuracies or delays in content, or for any actions taken in reliance thereon. BRITISH BASEBALL FEDERATION EXPRESSLY DISCLAIMS ALL WARRANTIES, EXPRESSED OR IMPLIED, AS TO THE ACCURACY OF ANY THE CONTENT PROVIDED, OR AS TO THE FITNESS OF THE INFORMATION FOR ANY PURPOSE.
Although the British Baseball Federation makes reasonable efforts to obtain reliable content from third parties, the BBF does not guarantee the accuracy of or endorse the views or opinions given by any third party content provider. This site may point to other Internet sites that may be of interest to you, however the BBF does not endorse or take responsibility for the content on such other sites.
British Baseball Federation (inclusive of National Teams) e-News:
Whilst the BBF has used reasonable endeavours to ensure that the information provided by the BBF in the e-news is accurate and up to date as at the time of issue, it reserves the right to make corrections and does not warrant that it is accurate or complete. E-News will change with time. The BBF hereby disclaims all liability to the maximum extent in relation to the E-News and does not give any warranties (including any statutory ones) in relation to the news. This is a free service and therefore you agree by receiving any e-news that this disclaimer is reasonable. Any copying, redistribution or republication of BBF e-news, or the content thereof, for commercial gain is strictly prohibited.
Follow the site to get the latest news and results straight to your email