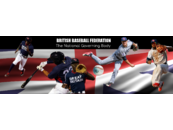 Honours and Timeline
Irish British Baseball Cup 2019 - Winner London Mets
In co-operation with both Ireland Baseball and the British Baseball Federation, respective National Governing Bodies of each country the inaugural Irish British Baseball Cup 2019 was held on the 6th April 2019 in the UK. The top two teams from Ireland and Britain played a nine inning game to win the Irish British Baseball Cup.
Winner of the Irish British Baseball Cup goes to the London Mets which defeated the Dublin City Hurricanes.
March 2019
24 March 2019
National Team (GB Baseball) Tryouts (U12, U15, U18 and U23) to be held in Herts.
April 2019
SENIORS: 7th April is the start of the BBF 2019 Regular Season.
April 2019
Saturday, 6th April 2019
Irish British Cup | Dublin City Hurricanes vs London Mets
Reporting Greg Kettle - British Baseball Federation 6 April 2019
In the first of hopefully many meetings between the two teams, the London Mets played host to the visiting Dublin Hurricanes at Farnham Park. With both sides being reigning league champions, the contest would prove to be an interesting and unique comparison between Irish and British baseball. The Mets sent out Rich Minford to start the game on the mound for his team and did not disappoint. Over three innings he was dominant, facing the minimum and only allowing one walk, while striking out 3. Minford used his sidearm fastball to cruise through the Dublin lineup with very few signs of strain. Even with his dominance, there was still time for some early elite defence, coming in the form of Catcher Aidan Pearce and Second Baseman Brendan Power combining to cut down Dublin's Timmy Rodriquez trying to steal second.
The Hurricane's counter to Minford came in the form of Brendan Scott, who demonstrated great resiliency in being able to go 5.1 innings, giving up 9 runs (6 of which were earned) with 8 hits and a walk. The first 3 of those runs came in the bottom of the first when the Mets were able to string together a series of base hits and well-timed stolen bases to jump out to an early lead, one that they would not give up for the rest of the game. The Mets utilised the running game to a large extent throughout the game, racking up six stolen bases and being a crucial part of them being able to put so many base runners in scoring position.
Being so early in the season, Mets manager Drew Spencer limited his starter to only three innings, protecting Minford's arm and also allowing him to let his other pitchers get some early season competitive innings in. While it may have seemed like replacing a cruising Minford would allow the Hurricane's offence to get going, new pitcher, Lucas Friss made sure that wasn't the case. Friss threw three innings of his own, striking out 4 with no walks. He did allow Dublin's Kelvin Almonte to get his team into the hit column in the 4th inning on an infield single, which would prove to be their only hit over the seven innings. Once again the Mets defence showed itself off when Minford, now playing 1st base, ranged back in foul territory to make the diving grab, adding to his already strong performance.
The scoring continued in the 3rd for London, with an RBI triple by Danny Santin highlighting the four-run inning. It was also in this inning where Dublin's defence cracked, allowing the inning to be extended by two critical infield errors. However, after this inning, Dublin showed their resiliency by playing clean defence for the rest of the game and committing no more errors. Pitchers dominated in the 4th and 5th innings, but in the 6th London once again began to rally, forcing Brendan Scott out of the game, to be replaced by Roberto Marquez with one out in the inning. Even with the pitching change, Mets hitters were still able to tack on three more runs, bringing the score the 10-0. With the mercy rule in effect, all London needed was a clean 7th inning from Jordan Edmunds on the mound to bring an end to the game. That's exactly what they got, as Edmunds used multiple arm slots to hold Dublin hitless and strike one out.
In the spirit of friendly competition, both teams agreed to play a full nine-inning game even with the final score decided. Both sides rotated new players into the game, giving everyone a taste of early season action. It was during these extra innings that Dublin was able to get on the scoreboard, putting up five runs in the ninth, to bring the score to 14-5. The standout performer of the game had to be starting pitcher Rich Minford, whose three hitless innings, three hits at the plate and exceptional defensive plays stood out in already strong team performance. Both teams will have takeaways from this game, with Dublin looking to build on any weaknesses shown so that they can once again retain their title. London, on the other hand, will be looking to carry this momentum forward, as they also seem to become NBL champions once again.
May 2019
Major League Baseball Coach Development Programme, scheduled for the weekend of 25-26 May at Farnham Park. For more information, please contact BBF Commissioner David Kettle by e-mail: david.kettle@britishbaseball.org
May 2019
27-31 May 2019
MLB Cadet Camp for young baseball and fastpitch softball players from 13 to 19 years of age will be held at Farnham Park.
For more information please contact BBF National Team Official Jason Pearce email Jason.pearce@britishbaseball.org
June 2019
25-27 June 2019
The MLB European Elite Development Tournament will be held at Farnham Park. The mentioned tournament will showcase 90 of the top teenage baseball players from 14 European countries, e.g., Austria, Belarus, Belgium, the Czech Republic, France, Germany, Great Britain, Italy, the Netherlands, Slovenia, Spain, Sweden, Switzerland and Ukraine.

June 2019
10th to 15th June 2019 - CEB FEDERATIONS CUP QUALIFIER
The London Mets will represent the BBF in Moscow, Russia
June 2019
FEDERATIONS CUP QUALIFIER
10th to 15th June 2019 in Blagoevgrad, Bulgaria
The Herts Falcons will take part in the Federations Cup to represent the BBF
June 2019
MLB London Series June 29-30 2019 London Stadium.
MITEL & MLB PRESENT LONDON SERIES 2019
The Boston Red Sox and the New York Yankees will play in London, two regular season MLB games (a first for Europe). To learn more click the link https://www.mlb.com/london-ser...
Social, News & Weather
London uk
Overcast

11°C
Wind
Humidity
15 MPH SSW
82%
Never miss an update
Follow the site to get the latest news and results straight to your email