British Baseball Federation

British Baseball Federation
British Baseball Federation
The British Baseball Federation (BBF) is the National Governing Body (NGB) of baseball in Great Britain. We receive no public funding to run our organisation (leagues) and are an all-volunteer entity. We promote equality in our sport, accept players from different age groups, cultures, nationalities, gender and skills. The BBF is the longest running organised NGB of baseball in Europe.
As the NGB of our sport, we are designated to control and regulate the environment of the game of baseball. The following list is not exhaustive and comes under our oversight:
Administer the practice and participation of baseball.
Oversee our National Teams (GB Baseball).
Influence both members and organisations of which it is a member.
Promote baseball.
Adhere to UKAD Anti-Doping rules.
Manage the rules and regulations of baseball.
Administer officials of baseball.
Encourage participation.
Manage risk and provide insurance.
Organise and host competitions.
We further, organise and oversee baseball leagues (youth and seniors) and tournaments. There are four Senior Leagues in the BBF, e.g.,

National Baseball League (NBL) which is our top league.
Triple-A
Double-A
Single-A
To view our BBF Leagues schedules, standings, statistics, etc., refer to the menu bar at the top of this site, Match Groups, for a complete overview.

The BBF Seniors Baseball Leagues (amateur) have long been established as the benchmark for British Baseball. The BBF Seniors Leagues include some of the top European baseball club competition in Europe, with the postseason championships (usually August or September), streamed through the BBF YouTube Channel. There are over 40 Senior teams made up of four divisions.
Teams in our Leagues are made up of member participants from our clubs which are registered to the BBF and adhere to our NGB standards and rules. BBF Leagues are reserved for member Clubs only. All club participants adhere to the BBF rules and standards. BBF membership is on an annual basis. To find a club near you, refer to this sites menu bar at the top under BBF Clubs.
The BBF Senior Leagues compete in the domestic competition each weekend during the season, with the schedule starting in April (for all divisions) and often ends in August, with the National Baseball Championships (NBC's) taking place in August and September, for all four divisions. Further, the winners of our top leagues are recognised by the WBSC, CEB Europe etc. The top two winners of our NBL go on to play in the CEB Europe Federations Cup or Qualifiers, which is a European competition organised by CEB, which includes the top teams from Europe.
Baseball is a sport which promotes good health, social skills, teamwork, develops physical coordination, is inclusive for beginners and skilled participants of all ages or gender and is fun. Play Baseball!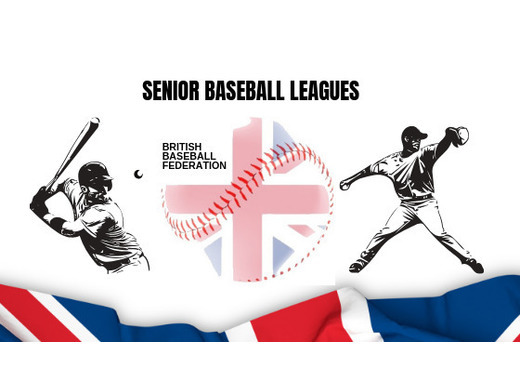 Follow the site to get the latest news and results straight to your email
Weather

13 MPH NE
77% humidity
Thu

22°C
13°C
Fri

23°C
14°C
Sat

29°C
18°C
Sun

26°C
20°C